Many colleagues will be spending this weekend mulling over what on earth to do, now that the allocation and 'sifting' process has started:-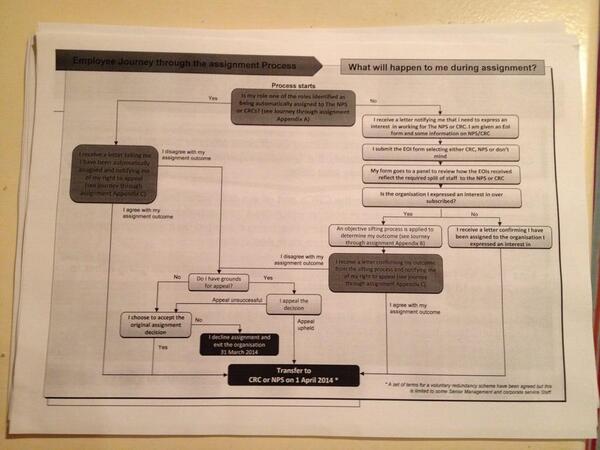 Sadly, for many highly experienced officers, it's going to mean departure from the job they love, just as predicted by that MoJ Risk Register that Chris Grayling still refuses to publish. Even if he is incapable of understanding it, his civil servants obviously know that such is the powerful public service ethos and degree of professionalism amongst probation staff, that they will find it impossible to work under this shit system being proposed and will desert the Service in disgust.
It's already happening with the public being put in danger by key staff leaving and increases in sickness rates as colleagues 'fall over'. The MoJ know that service delivery is being affected all over the country and it's just a matter of time before there's either a crisis, or worse, a tragedy that will gain widespread public attention. I'm sure it could be a fruitful avenue of questioning for the Justice Affairs Committee hearing on Tuesday when Chris Grayling is due to give evidence.
I think it's worth re-publishing the following moving comment that eloquently describes the human cost of this crazy and dangerous omnishambes:-
Have been following your Blog Jim since January this year and wish to thank you for being a tremendous source of information for the events that have unfolded during 2013. With so much confusion being expressed on a macro level, the impact on individual employees of Probation Trusts at this present time seems to be overshadowed by recent postings. It's really useful to hear about what's happening across the board and the apparent disregard by our present government to the personal impact on individuals and their families.
I'm pretty convinced that when I submit my Expression of Interest Form and separate grievance letter at the beginning of December, not much interest will be paid by my employer to my individual circumstances and concerns. I'm aware that I'm only a 'number' to be processed and being in a specialised role which has no defined sifting criteria, my future will be decided on a random basis.
This has left me feeling humiliated and depersonalised. I hope that by expressing my feelings on this blog, it's an avenue for drawing some attention to the micro level implications that will have far-reaching consequences for thousands of other employees.
Having worked in Probation for 18+ years and worked hard to progress in my specialised role through achieving a number of additional qualifications at vocational and Masters level, I feel that the specialised knowledge and experience I possess will mean nothing when a coin is flipped or my name taken out of a hat in the near future. Who knows what the consequences may be.
With regard to personal consequences on a family basis, my daughter is a qualified Probation Officer and it really breaks my heart to listen to her worries. Working late hours at present to manage high risk offenders, she is the main breadwinner for her family and is financially supporting her partner and 3 young children. Who cares about the future financial security of such young families?
We will both be spending time over this coming weekend drafting our grievance letters. One thing is sure, despite the apparent lack of empathy being showed by the current government, we will survive as a strong family unit whatever happens in the next few months. There was a time when in Probation where you felt part of a strong Team unit and could trust your colleagues and employer to support you through difficult times. It's ironic that we are employees of 'Trusts' - unfortunately values of loyalty to hard working and dedicated staff who have worked over and above role requirements have long disappeared.
This has been a means for me to vent my anger and disgust at what's unfolding. I hope you have read this far and I'm aware that my story is probably repeated on a wider basis.
For those readers not particularly familiar with the probation service, it might be instructive to see a couple of official MoJ diagrammatic representations of the much-talked about omnishambles:-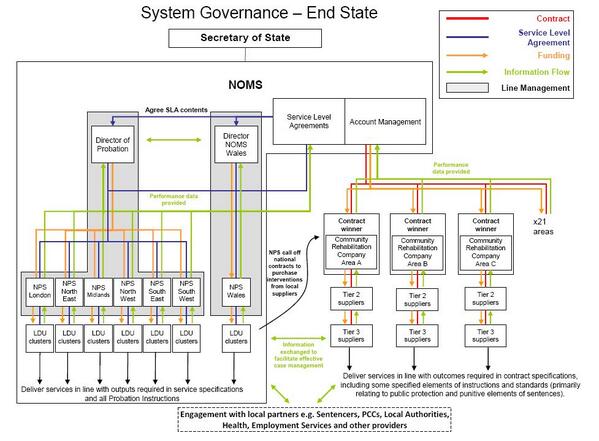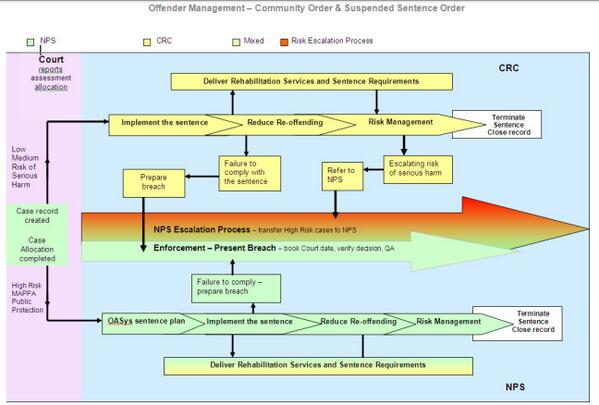 To be honest I think one of the most shocking aspects of this whole sorry sad mess has been the supine role of the so-called independent probation trust boards, apart from a few notable exceptions that is. Virtually all have been willing to just implement all that has been demanded of them by the MoJ, and in most cases without demurring or even uttering a peep of public concern. So, it's particularly good to see at least one board member in Essex taking a stand:-
THE leader of Colchester Council's Labour group has resigned as vice chairman of Essex Probation over planned reforms.
Tim Young, a boardmember for nearly a decade, is resigning in protest over the Government's privatisation plan He said: "It breaks my heart to resign from the board of Essex Probation, as it has been part of my life for nearly ten years and I have learned so much about the criminal justice system and the supervision and rehabilitation of offenders from the excellent staff and management who work for the Probation Service in Essex.
"However, the only way I could think of to bring more attention to the Government's privatisation plans was to resign and campaign with others, including the trade unions involved, to try to prevent or, at least, delay the proposals."
The Government plans to abolish probation trusts next year.
A smaller national probation service will be responsible for high-risk offenders and public protection cases, while low and medium-risk criminals will become the responsibility of community rehabilitation companies. They will be funded according to their ability to reduce reoffending.
Lets finish this weekend round-up by highlighting the piece in the Guardian on Friday by Sarah Payne, the new director of Noms in Wales and responsible for both probation and prisons in the brave new world being ushered in with the TR omnishambles. She only came into probation in 2010:-
Before working in probation, Payne was chief executive of the YWCA England and Wales, a charity that helped more than 11,000 women and girls a year. This experience gave her a broader perspective on what contribution different organisations can make to the reducing reoffending agenda, she says. "I absolutely loved it, not least because prior to then most of my career had been in men's prisons."
Payne was deputy governor of HMP Pentonville and governor of Bullingdon and Oxford prisons, before becoming the area manager of the 12 prisons in Thames Valley and Hampshire.
As head of a dispersed organisation, she says she learned to be a more enabling and inclusive manager and assembled a team with different skills. "When you have a broader span of experiences you get a better insight into what good looks like. You get bolder in tackling things you really think need tackling."
She began her career at HM Prison Holloway, which was "a bit of a shock to the system for a modern languages graduate". A university trip to a local prison was "a bit of a lightbulb moment", and a strong sense of social justice and public service drove her to join the graduate scheme and pursue a career working with offenders.
"My parents didn't quite understand why the daughter they thought was particularly gifted for modern languages wanted to be in a custodial setting though," she adds.
A perfect illustration, if one were needed, that 'no previous experience necessary' really will be the new probation mantra under omnishambles proposals.
PS - I'm really grateful for a reader pointing this out:-
It is interesting that the article refers to her previous employers as the Young Womens Christian Association as she changed the name during her short stint there to Platform 51. I noticed during the last few weeks that Platform 51 is changing their name again and slashing their services as they have massive debts as a result of previously agreed contracts. Hmmmm!
As reported here on the third sector website:-
The charity, formerly known as YWCA England & Wales, will adopt its new name in November as part of a major restructure
, the women's charity formerly known as YWCA England & Wales, will change its name to the Young Women's Trust in November.
The move comes less than three year after the charity – which was founded in 1855 and provides support for girls and women through courses, group activities and counselling, and campaigns on their behalf – .
At the time, the charity said the name YWCA England & Wales "no longer stood for anything" and led to it being confused with YMCA England. The name Platform 51, which referred to the fact that 51 per cent of people are female, was criticised at the time for being confusing.
The most recent name change is part of a major restructure of the charity. Internal documents seen by

Third Sector

revealed that , reduce the size of the organisation and relocate the remaining functions to one office in London. The documents said that the charity would retain YWCA England & Wales as its legal name.