Yesterday I mentioned in passing the latest edition of the British Journal of Community Justice. Well it's actually a special bumper double issue devoted entirely to TR:-
"Such is the gravity and rush to change encapsulated in the Government's Transforming Rehabilitation proposals that the British Journal of Community Justice decided that the next issue would be entirely dedicated to comments on Transforming Rehabilitation.
The Editorial Board of the British Journal of Community Justice hope in this issue to provide a significant snapshot of some of the considered thoughts of academics, probation practitioners, ex-offenders and other commentators about the recklessness at the heart of these unwarranted, untried and risky changes."
When I gave 'Reforming Rehabilitation : Under the Microscope' a plug, I had no idea it contained a very favourable review of this blog by Paul Senior. In a section on social media he sets the scene and kindly acknowledges its role :-
The growing influence of social media
For the first time, a major change in Probation has been conducted through the interactive lens of social media: Twitter, blogs, YouTube and online discussion groups. The availability of comment on what has been happening has been immediate, informed and eclectic in content. Press releases, newspaper articles, Ministry of Justice papers, journal articles, Parliamentary debates, conference outputs and many more random pieces of comment and information have emerged quickly, almost instantly at times, contributing to a debate which has largely been open, transparent and comprehensive, at least on the cyber airwaves if not intended or encouraged by official government sources. So, despite attempts by government to impose a 'corporate silencing' by exerting pressure on senior probation staff not to discuss ideas which were in opposition to Transforming Rehabilitation, TR has been the subject of much discussion, much of which has been questioning in content. It was certainly noted that Twitter went silent for a few weeks in the early days of this gagging mechanism but gradually voices re-emerged, sometimes cloaked in a degree of anonymity, but unwilling to allow such a major transformation of the probation world to pass without comment.
Twitter is a great mechanism for signposting readers to most of the leading blogs in this area. However if you're not a Twitter user you can bookmark some of the major blogs on your computer and go direct to see the latest news. Blogs tend to have their own niche market and I would highlight four which have offered a reasonably comprehensive view of TR developments, though each with distinctive audiences and ideas.
The first is by Jim Brown and the blog is called On Probation. It can be found at
http://probationmatters.blogspot.co.uk. He introduces his blog in this way:
Welcome to the wonderful world of probation! These are the personal thoughts of an ordinary probation officer struggling to come to terms with constant change, whilst trying to do a useful job for society. Sadly, change is so often obviously not progress. I am fully aware that my views do not represent official policy of government, my Service or possibly anyone else - but hey - it's my blog!
Providing news on an almost daily basis, this blog reports and pulls together information from a variety of sources. It is the one blog that also has an active discussion following each successive release so not only do you get the benefit from the blog itself but you see some of the debate and discussion unfold. This blogger has worked tirelessly to bring every item of news to the attention of the reader on what he dubs this 'omnishambles'! The blog frequently quotes from other sources thus making it a useful check on whether you have picked up information from a sometimes bewildering array of useful locations - a priceless and tireless contribution.
In a sense getting a mention in this august journal and top billing to boot in the section on social media, the elephant in the room has at last been acknowledged. Studiously ignored in other notable quarters, I was beginning to wonder just how long it would take for the burgeoning amount of comment and interest clearly being stirred up would go apparently unnoticed.
The issue was raised recently with a contributor saying they felt it was 'ridiculous' to think that the blog would be read by the MoJ as a way of being informed as to the feeling and mood within the profession. Quite an astonishing comment really when most people would feel it would be a serious derogation of duty if they didn't! Of course it's read by the MoJ and that's one of the main reasons I expend so much time on it and why contributions are so important.
Anyway, back to the bumper souvenir TR special edition. There's quite a line-up of interesting articles:-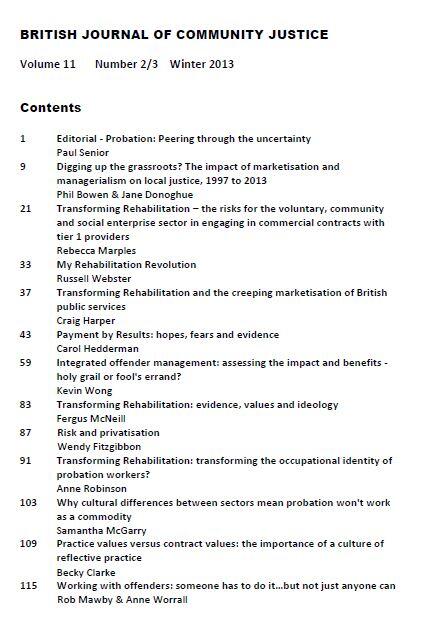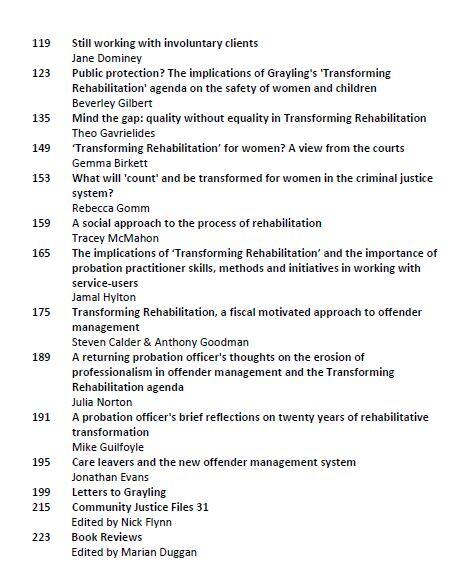 All the articles are currently available online, but for those wanting a tangible TR omnishambles souvenir, or feel it's the ideal stocking filler for a friend or colleague, heavily discounted copies can be purchased:-
To order your hard copy please send a cheque for £7 (this includes £2 P&P), made payable to 'Sheffield Hallam University', to the following address:
Hallam Centre for Community Justice
Sheffield Hallam University
Please include your name, address and a contact telephone number.