Was the midnight oil burning at Petty France last night whilst officials scrabbled together a response to NAPO's request? I think not. I am deeply suspicious of the request for more time and dont trust the MoJ one iota. I think manoeuvring is going on behind the scenes and I am worried.
******
Personally I think those so called charities that are part of these consortiums should hang their heads in shame. So NACRO, Addaction, St Giles, CRI and Shelter can kiss my a*se before I will give them a penny. Talk about 50 pieces of silver, do they have no morality, no sense of justice? They are a disgrace.
******
If I was CRR and MTC Amey I would have your lawyers on speed dial, not that I want you to win, but you have been had over by Grayling! SUE HIS ARSE.
******
I think the mutuals got used to keep us all quiet. Had they been smart they wouldn't have played into Graylings hands. Had there been no mutuals, they wouldn't have got us past the split in June.
This from Alan Travis in the Guardian:-
Two companies to run more than half of privatised probation services
Two outsourcing companies, Sodexo and Interserve, are to be put in charge of more than half of probation services in England and Wales under the most far-reaching privatisation in the criminal justice system.
Chris Grayling, the justice secretary, said the companies, in partnership with rehabilitation charities, were the preferred bidders to run 11 of the 21 planned community rehabilitation companies that will take over probation early next year. They will be responsible for more than half the probation staff supervising 200,000 low to medium-risk offenders.
Four staff mutuals, which include employees of former probation trusts, are included in partnerships to run probation in London, Wales and the west country. But a leading staff mutual bidding to run probation services in Kent, Surrey and Sussex has been rejected. Seetec Business Technology Centre will provide probation services in this area.
The contracts, worth £450m and due to be in place before the election, will hand over 70% of the work of the public probation service to private and voluntary sector providers as part of Grayling's Transforming Rehabilitation programme. The public probation service will retain control of services for high-risk offenders.




Grayling said: "This announcement brings together the best of the public, private and voluntary sectors to set up our battle against reoffending, and to bring innovative new ways of working with offenders. In particular, I am really pleased that we will be deploying the skills of some of Britain's best rehabilitation charities to help these offenders turn their lives around."
The list of preferred bidders includes seven private companies, 16 charities and voluntary organisations, and four mutuals. The justice ministry said 75% of the 300 subcontractors named in the successful bids were voluntary sector or mutual bidders. The justice secretary said the fact that 80 bids were received from 19 organisations was evidence of a "strong and diverse market".
Sodexo Justice Services, which already runs prisons, has been named as the preferred bidder in six of the 21 areas in partnership with Nacro, the rehabilitation charity. Interserve has won the bids in five areas as part of the Purple Futures partnership which includes the charities Addaction, Shelter and P3 and a social enterprise 3SC.
The announcement of the preferred bidders comes as Napo, the probation union, is preparing to launch a judicial review of the sell-off.

The ministry of justice faces a disclosure deadline for the official 'risk register' which assesses the public safety implications of the privatisation under the possibility of a High Court injunction.
G4S and Serco, the private security companies, withdrew their bids after the Serious Fraud Office was called in to investigate overcharging of more than £100m on electronic-tagging contracts involving the two companies.
The Commons public accounts committee has established that the contracts included a £300m plus "poison pill" clause guaranteeing bidders their expected profits if the 10-year contracts were cancelled after the general election.
This from Ian Dunt on politics.co.uk:-
Grayling forces through probation sell-off despite safety fears
Nothing was ever going to stop him. This morning, with the threat of legal proceedings hanging over his head, a general election in half a year's times and serious concerns about a breakdown in public safety, Chris Grayling announced his preferred bidders for the probation service.
Despite all the usual talk of a diversity of suppliers including charities and voluntary groups, private firms were the overwhelming winners.
Sodexo picked up the largest number of contracts. One gave it a monopoly in the north east, where it also runs Northumberland prison. So it will now be paid for reducing reoffending and (rather more) for increasing the prison population. Whatever happens, Sodexo wins.
The ministerial statement, which was sneaked out with a minimum of fuss, mentions 80 bidders, but by my count there were only eight cleaning up on the 21 contracts.
Sodexo

, in partnership with charity Nacro, won six contracts.

Purple Futures

, a partnership which includes some charities but is led by private firm Interserve, won five.

Working Links

, "a public, private and voluntary company", won three.

The Reducing Reoffending Partnership

, a joint venture involving a private firm and two charities, won two.

MTCNovo

, a joint venture involving corporations, charities and "third sector shareholders" won two.

Geo Mercia Willowdene

, a joint venture involving a private firm, a "social enterprise" and a probation staff mutual, won one.

ARCC

, the only joint venture which doesn't seem to involve a private firm, won one.

Seetec Business Technology Centre,

a private company, won one contract.
To have proceeded with this sell-off amid the growing evidence of a threat to public safety from the spitting up of probation is highly irresponsible. Even worse, ministers are doing so while refusing to publish the safety tests the department has conducted.
Pat Waterman is not impressed:-
A MESSAGE FROM PAT WATERMAN CHAIR OF GREATER LONDON BRANCH
Napo acted in good faith and gave the the Secretary of State a further 24hrs to prepare a response to a previous deadline - effectively extra time - and this was in my view more than reasonable in the circumstances. The extension was intended to allow the MoJ to prepare a substantive response to our concerns.
Well we now know what they w

ere doing with the generous allowance of time given to them by Napo's lawyers. They did not work around the clock gathering the information that Napo had requested but rather they were contacting bidders and putting the finishing touches to their plans to announce their preferred bidders for Community Rehabilitation Companies. You will recall that this is information that they have hitherto considered to be no ones business but theirs.

My view is that we should not give them a minute longer. Let us take whatever legal action needs to be taken and do it now.

The Secretary of State has shown nothing but contempt for probation staff and their representatives who have been willing to engage the MoJ in constructive dialogue throughout. It will become blatantly obvious in any legal process that the Justice Secretary and his associates consider that their reckless privatisation timetable is more important than any consideration of public safety, justice, or indeed the risks posed to probation staff on the front-line.

Members can be assured that in the coming days Napo Greater London Branch will be examining both the preferred bidders track records and any other details of the bid or contract that may become available. Our experience with Serco and the Unpaid Work contract however informs us that getting full information can be an uphill struggle.

As always we will keep members informed. We should emphasise that at this stage contracts have yet to be signed and what has been announced are the preferred bidders.

It is not over yet.

Pat Waterman
Chair of Napo Greater London Branch
This from Frances Crook:-
Private firms are the big winners of probation sell-off
Responding to the Ministry of Justice's announcement of preferred bidders for probation contracts, Frances Crook, Chief Executive of the Howard League for Penal Reform, said:
"As we expected, the big winner of the probation sell-off is not the voluntary sector but large private companies run for profit. The Ministry of Justice will claim it has created a diverse market, but Sodexo and Interserve are the companies running half of all the contracts.
"A public service is being destroyed without any evidence that the fragmented landscape created will perform any better or help make communities any safer. Indeed, reforms aimed at imposing compulsory support to those leaving prison after short sentences are certain to set people up to fail.
"Given we are close to a general election, it is particularly disgraceful that these contracts include 'poison pill' clauses preventing a future government from revising these untested and ill-thought-through reforms if and when they fail. That is not just reckless but fundamentally undemocratic."
This what it looks like nationwide:-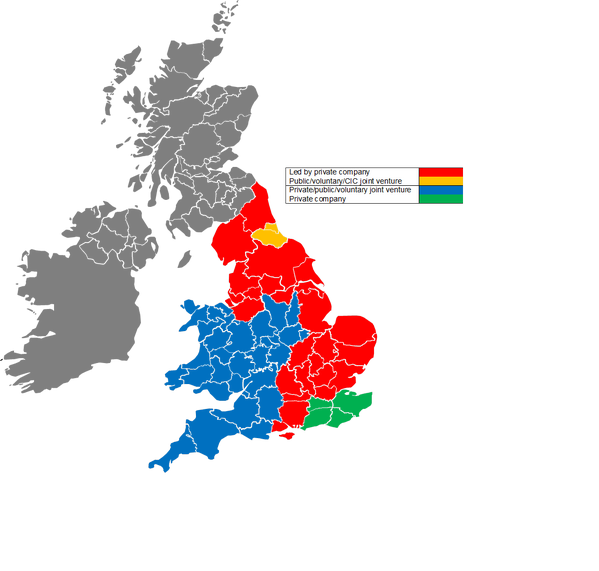 And I'll just throw in Private Eye and Harry Fletcher for good measure:-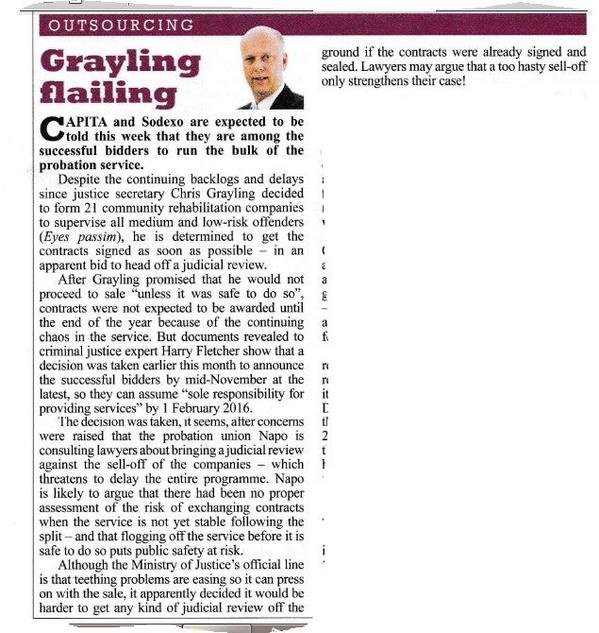 Postscript - This latest blog from Ian Lawrence:-
Cooks and Cleaners to sweep up?



Well, we waited, and we waited for the grand announcement about who all these exciting and innovative providers would be, and the Cooks and Cleaners have pitched up.
That's no disrespect to anyone working in those two professions of course but it was really no surprise to see the two corporate giants in the form of Sodexo and Interserve being given the green light to own more than half of probation. The pre-announcement lockdown from Noms and MoJ was as pathetic as it was chaotic with all sorts of folk running around in 'Castle Greyskull' (MoJ HQ) to ensure that this less than riveting non-event was kept super -secret until the last moment.
For us this whole pantomime changes absolutely nothing in terms of our continuing campaign and our moves towards exhausting all our legal options. Neither does it change the inescapable facts:
That this shambolic and corrupt reform is all about ideology and self -aggrandisement

That these would be providers are buying into a project that is unproven and commercially risky

That before contracts are awarded (and after if it happens) Napo will be exposing every single example that we can of previous government contract failures and mistreatment of employees

That we will lobby for an incoming government to revoke the CRC contracts without compensation

That every case of maladministration or serious cases of further harm that occur if contracts are awarded in the unsafe environment that Grayling has created will be given the highest profile possible.

That this union will never give up on our quest for reunification of the probation service.

The struggle continues.

More news to follow soon.