First off, here's that email sent yesterday to all staff in Kent, Surrey and Sussex with news of the failed bid, together with an explanation:-

Dear all

It is with great sadness that we write to inform you of Chalk Ventures' decision to withdraw from the Transforming Rehabilitation competition. This is not a decision that we have taken lightly, and we have tried very hard to find a way to continue but all three joint venture partners (Co:here, A4e and Bridges Ventures) were in complete agreement and informed the Ministry of Justice on Monday (9th June) of our decision.

The Chalk Ventures consortium is an incredibly strong partnership, with all three parties bringing different skills and playing different roles, but all three were in agreement that the contract contained some commercial and operational terms which, for us, were too difficult to bear. We have been working with the Ministry of Justice to try to overcome these via dialogue, but unfortunately were unable to resolve them in the time available.
We had, with your help, co-produced a robust solution that was locally tailored and financially viable (with significant financial investment from A4e and Bridges Ventures) and we still passionately believe we could deliver these services. However, unfortunately this is not possible for us on the current contract terms, and so the only real option to maintain our integrity was to withdraw from the competition. A4e had already taken the decision not to bid in any CPA in its own right, including in Kent, Surrey & Sussex, in order to focus its efforts on the Chalk partnership and in recognition that the 'joint bid' was better than a 'sole bid' could be. This means that neither Chalk nor A4e are in the competition for the Kent Surrey & Sussex CRC.

We know how disappointed you will be with this news, the Chalk Board and whole bid team are devastated. We felt strongly that you should know as soon as possible given your overwhelming support to date including the vast majority of you voting in favour of the mutual back in October 2013. I personally feel that, although it was an incredibly difficult decision to take, it is the right one.

Sarah Billiald, on behalf of the Co:here bid team and Chalk Board (Co:here, A4e and Bridges Ventures)
Here's an excerpt from the latest blog by Ian Lawrence, Napo General Secretary, and some interesting news regarding the wall of silence being demanded by MoJ/Noms HQ - a sure sign things are going seriously awry when any institution orders silence:-

Criticism inevitable

In a struggle like the TR campaign it's entirely understandable that our member's frustrations come through, especially given the unprecedented attack on your profession and the chaos which is not of Napo's making. But its frustration which now, as I am increasingly convinced, is being fuelled by a deliberate disinformation campaign by the opposition. The orders from on high to new CRC and NPS Chiefs to not divulge information, whether it be the truth about the state of the IT systems, the actual numbers of outstanding vacancies, or the names of the remaining bidders for a CRC as a number of them start to drop away, is an absolute disgrace and an insult also to the several hundred of our members who have turned to the campaigns@napo.org.uk inbox to help us to raise the questions by giving us a picture of the reality. Graylings people are quite simply denying that the shambles you are facing is a problem, and that anyway it will all soon just pass over.
I notice from the latest blog by Joe Kuipers, Chair of ASPT until final windup, that he's encountered the paranoia and new wall of secrecy prevailing at the MoJ as well. Whatever happened to that much lauded coalition promise of 'open' government? This is what he says:-
HIDDEN TREASURE?

I have resisted the urge to blog but I read others with interest and a certain amount of dismay. I feel for staff who are finding the going tough, but then I do know I get to see the contributions of those who either feel most aggrieved or in most pain. There is little, if anything, I can do and I know when to stop trying - at least for now - we just have to watch and see how TR unravels or not.

That said, and looking to the future, I have been trying to get the contact details of the CRC CEOs and NPS divisional directors, for no other reason than to alert them to the NoOffence awards, which I thought might be of interest to them to nominate their staff. As readers may know I am on the advisory board of NoOffence. I even approached one CRC CEO who advised that s/he did not know them - I was not sure whether to believe this.

So, what I thought would be a simple request turned into a Kafkaesque event, as the reply to my question shows:
"Thanks for your e-mail.

As with Probation Trusts, our standard practice is not to release contact details for CRC/NPS Chiefs. The reasons for this are practical - we keep the contact lists regularly updated and if we shared a list with you it would quickly become outdated. Furthermore we need to ensure communications to CRC/NPS Chiefs are streamlined and issued through our standard, agreed process to help prevent Chiefs receiving too many communications.



However if you would like to send out something to Chiefs we are happy to help, please send us your request and we'll work to get it issued through standard NOMS communication channels."
Now, as a kind soul I have refrained from naming the NOMS official who sent this, but it comes from the Briefing and Casework team in the MoJ. I draw attention to the factual inaccuracy, namely that until 31 May all contact details for Trusts, their CEOs and Board Chairs were freely and openly available, as were Board meeting minutes.
Finally, I see Grayling's TR omnishambles has made it into Private Eye again:-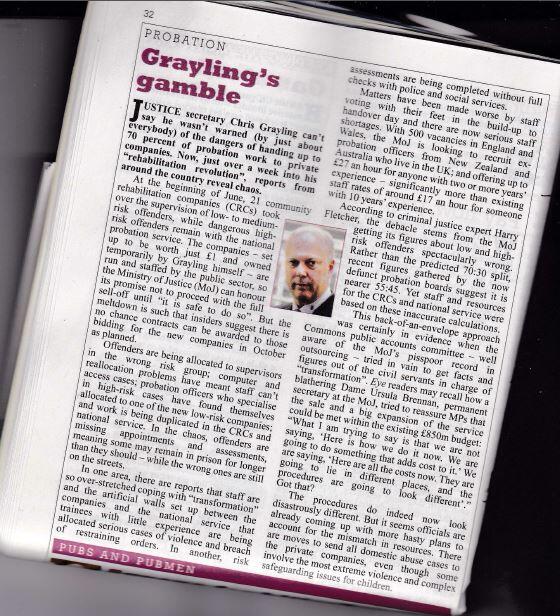 Postscript - Forgot to mention, due to massive demand, those 'novelty' mugs are back on sale through ebay - just search 'probation novelty mug'. Well done Warks Napo!