It looks like the latest day of action by our colleagues in the legal profession was a huge success. It really does take a lot to upset lawyers who have now withdrawn their labour on two occasions and show no sign of giving in over legal aid cuts.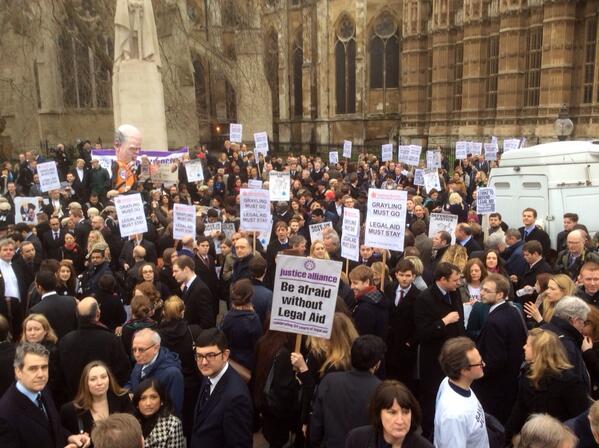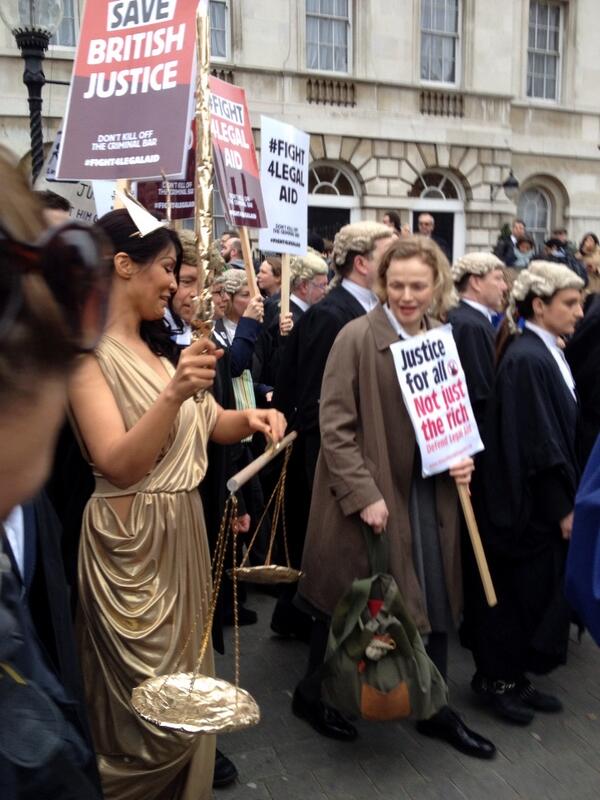 Maxine Peake tv's Silk and Lady Justice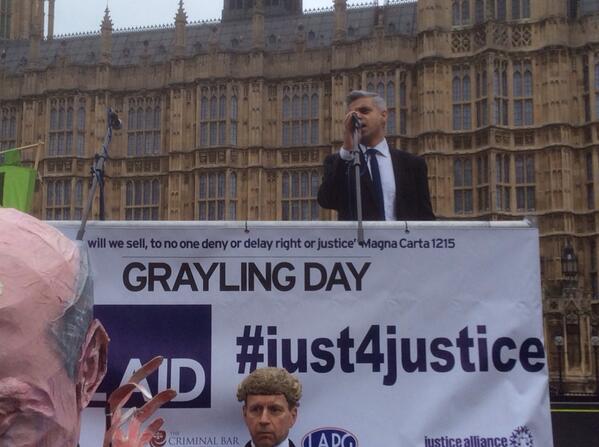 According to Sadiq Khan, the Lord Chancellor believes Magna Carta is a large bottle of Champagne.
It's been brought to my attention what the Labour Party Manifesto might have to say about probation, and it can best be described as weasel words I think:-
Success in the probation system is built on partnership working between agencies, and on the strength of the relationships between dedicated probation staff and individual offenders. The Government's actions in breaking up this model go against the grain of everything we know about what helps to rehabilitate offenders. Labour will not allow decisions on the supervision of dangerous offenders to be determined by profit, rather than public safety, and we will make sure that those providing probation services are subjected to appropriate levels of transparency and scrutiny.
Clearly we have some work to do in relation to all political parties before the next election.
You will recall that Atos and the government are going to part company over the contract for Work Capability Assessments, but as one door shuts, another two open. First this from the Telegraph:-
The beleagured firm Atos has been given the contract to extract patient records from GP surgeries as part of the controversial NHS data sharing scheme, MPs were told yesterday. The Commons health committee heard that the firm has been given responsibility for removing personal data from medical records, as part of the national programme, which has been delayed for six months amid an increasing backlash.
Last week NHS England ordered the delay after pressure from patients groups, doctors' leaders and privacy campaigners, who argued that the national plan had been poorly communicated, and that the public had not been properly informed about their right to opt out.
Yesterday, health service officials disclosed that a key contract for the controversial project has been handed to the firm Atos, which has faced criticism over its handling of "fitness for work" tests on disabled benefit claimants. Last week, the company confirmed it was seeking an early exit from its contract with the Department for Work and Pensions (DWP) in the face of persistent death threats to staff.
The other door to open was reported here on the Civil Service World website:-
Lockheed Martin has won a five year IT services contract with the UK Ministry of Justice (MOJ). It is one of the biggest single IT services contracts won by Lockheed Martin's UK operations to date, underpinning the company's growing position in the UK IT services sector.
The MOJ provides IT services to approximately 90,000 users across the estate in England and Wales, which includes more than 600 courts and tribunals and 100 prisons.
As the provider of Service Integration and Management (SIAM) services to the MOJ, Lockheed Martin will manage the transition of existing services to a new operational model and manage the day-to-day delivery of a wide range of supplier services. It will work with the MOJ to ensure efficiencies are delivered, services are standardised and enhanced service levels are met, regardless of which company is delivering them.
Lockheed Martin is partnering with UK-based Atos, Skyscape Cloud Services and the Cadence Partnership to deliver the MOJ contract. With other new contracts, Lockheed Martin UK expects to increase its employee numbers by some 200 people.
Potential bidders for probation work, especially small ones, would do well to take note of the bullying tactics employed recently during negotiations for the national electronic tagging contracts and outlined here in the Guardian.
The promise of a revolution in supervising offenders with a new generation of tags that could track them 24 hours a day by the justice secretary, Chris Grayling, has suffered a setback with the collapse of talks this week with the small British hi-tech company that was to deliver the hardware at the centre of the scheme.
The breakdown sparked a furious exchange between the justice ministry and Buddi, which is run by Sara Murray, a member of Vince Cable's "entrepreneurs' panel", and chaired by the former Metropolitan police commissioner Lord Stevens.
Buddi was given preferred-bidder status in August to provide the hardware for the £1bn GPS tagging scheme with the contract to be awarded by the end of last year.
But the justice ministry has now confirmed that it has started the procurement process again, claiming that Buddi has failed to show it could supply the technology to keep track of 20,000 offenders at one time within the required timetable.
Buddi insists that the justice ministry wanted a product that doesn't yet exist, demanded it hand over its intellectual property on its smart tags without any guarantee it would not be used by other companies, and refused to pay for any further development work.
Murray said the hi-tech tag that justice ministry officials want was a "figment of their imagination", adding that the chances of the Ministry of Justice (MoJ) now delivering on their end-of-year timetable was zero.
She said in a staff email, that the firm had told the MoJ they had experienced continued delays, immediate demands for lengthy documentation, and that they were not interested in paying for development work.
"They want the development of a product which does not yet exist," she said. "The MoJ have been an extraordinary diversion of much of our resources for two years now and this cannot continue, and we are excited for the prospects of the business now we are free of this unproductive and frustrating relationship."
The MoJ maintained that the collapse of talks would not produce fresh delays for a contract that was already 14 months behind schedule.
The ministry will ask 3M and Steatite, which missed out on the preferred bidder status last summer, to bid again under an accelerated procurement process. It is thought G4S, which has experience of GPS tags, and Serco have been banned for bidding for the tagging contract after the launch of a fraud investigation into their existing tagging contracts with the MoJ.
Chris Grayling is a bully by nature. That's not just my assessment from afar, but a view I've heard voiced by several unfortunate enough to have had dealings with him. At regular intervals on this blog the refrain has been 'why has there not been one Chief Officer willing to put their head above the parapet?' For a mature democracy the sad fact is that many are scared witless and have been ruthlessly silenced.
Regular readers will recall last years infamous tweet by Heather Munro, CEO of London and by far the largest Probation Trust in England and Wales. By daring to challenge the 40% savings alleged for the London Community Payback contract with Serco, she was threatened with the sack. The CEO of West Yorkshire and CEO-designate of the new CRC was summarily un-designated immediately following her appearance on BBC 2's Newsnight programme. My strong suspicion is that all CEO's have been told in no uncertain terms that their pension and financial contract termination arrangements would be put in jeopardy by any outburst of TR opposition.
Yes it's disgraceful and reminds us all of those infamous gagging clauses rife within the NHS and together with the MoJ's refusal to publish the TR Risk Register, makes a complete mockery of the promise by prime minister David Cameron to ensure we have 'the most open and transparent government in the world'.
In this article from the Independent of Chris Grayling we learn:-
One former civil servant says: "He is completely focused on his legacy, and appears to be conscious time is running out."
As Joe Kuipers dryly observes:-
A legacy much like Beeching, who is also fondly remembered?
Indeed.