As we know from comments left on this blog, and that includes Ian Lawrence because he mentioned the 'democratic' nature of the internet, there were many who were sceptical about the need for this bit of introspection focused as it was on the constitution. But despite the pedantic and at times chaotic, confusing and arcane discussion of amendments to amendments, there are times when it's important to be reminded that being a member of a union means collective support and action.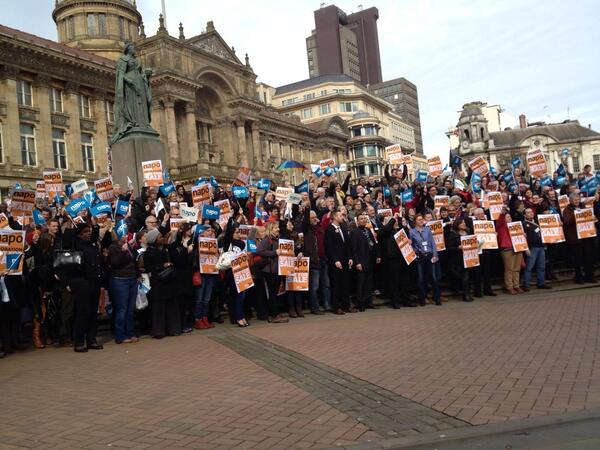 Spending 10 minutes of the lunch break gathering around Queen Victoria felt good and not only served to make sure the picture made it on to news bulletins, it also sent a none-too subtle signal to the MoJ who coincidentally were holding a bidders event at the Thistle Hotel nearby.
I'm sure some constitutional amendments did get passed, but like many I'm not sure what exactly, but I do know Owen Jones electrified the auditorium with a barn-storming speech that earned him the only standing ovation of the day. This is clearly a young man who is going places and his oratory skills unmistakably invoke memories of great public speakers of the past and before the advent of TV made everything so damned anodyne.
His message pretty much echoed that of the Ken Loach film mentioned yesterday and he reminded us that voters of all political parties continually favour reigning back the privatisation of public services when asked by opinion polls. I honestly think his contribution alone salvaged the day in terms of confirming the worth of mixing invited speakers with the arcane business agenda.
It's always good to hear from Frances Crook of the Howard League, another loyal Napo supporter, together with Harry Fletcher who continues to undertake sterling work behind the scenes in Parliament. The Offender Rehabilitation Bill returns to the Upper House for debate on 12th March and Lord Ramsbotham hopes to repeat his famous government defeat, thus triggering a highly embarrassing game of ping-pong with the House of Commons.
Harry also reminded us that the indefatigable Margaret Hodge, Chair of the influential Public Accounts Committee, intends to get her teeth stuck into officials of the MoJ next week. Witnesses include Michael Spurr and Dame Ursula Brennan, Permanent Under Secretary, and they are to be asked to outline exactly how much the TR omnishambles is costing. The latter has somewhat of a reputation for being a bully and it's widely believed it was her who was responsible for the most recent delay in the TR timetable. It seems she was able to stand up to that other bully Chris Grayling and refused to sign off TR on the basis that it failed the key Business Readiness Test. It may still do of course!
In this regard we were reminded by Assistant General Secretary Dean Rogers that government contracts normally take at least 2 years to prepare and negotiate, and longer if complicated. Those for TR are being rushed through in less than 9 months from start to finish, despite the MoJ repeatedly demonstrating their poor track record on such matters. And the clock is ticking inexorably towards the period of purdah prior to the General Election when all such actions must cease. The problems keep growing, the costs are escalating and potential bidders keep asking awkward questions that have no answers. The omnishambles is on track even if TR is not.
The big news of the day was the announcement of further strike action on March 31st and April 1st, Chris Grayling's birthday. Going on strike is pretty much anathema to probation staff steeped as they are in a strong public service ethos and it always strongly divides opinion, as demonstrated by these comments from last night:-
So we're going on strike again. I feel so despondent, I simply don't have the appetite for this. I can fully understand why they chose those dates but I'm so stressed I'm not sure I can cope with this as well. It's too little, too late.
****************
2 days is not enough. No one will care that we are striking for 2 days. More to the point, we ourselves feel that 2 days is apathetic. 2 weeks would be more of a statement and a stand. 2 weeks would show guts and determination and would leave the government floundering. 2 days is barely more than the 2 half day dithering we did before. Grayling is determined to privatise probation. We have to match that determination with our own. If we do not, we deserve to lose.
*****************
If I'm honest, in my heart of hearts I have no appetite for another strike. But I will still be on the picket line because it's the right thing to do. For me, being in a union is more than paying my subs every month, it's about taking collective action because - and I know this sounds cheesy - we are stronger together.
The big question remains, where the hell is Unison in all this? Sadly there doesn't seem much sign of fraternal support from them and the uncomfortable truth maybe that they're biding their time in the hope of poaching members.
In his speech Ian Lawrence brought up the issue of the Judicial Review. Many of us have been wondering what was happening and I'm aware that at least one external unsolicited offer of legal assistance has recently been made. As with all things legal there are differences of opinion as to the strength of the case and it would appear advice from Napo's Counsel is that there are also significant financial risks involved. Given that Napo has money in the bank and this is a fight for professional survival, I think many members will feel that the matter must be tested.
(pics courtesy Effie Perine)