Post-sentence supervision
We looked at a small sample of post-sentence supervision cases. Overall, the quality of case management and consequent enforcement decision-making in the sample of post-sentence supervision was poor. We found that CRCs were struggling to provide adequate services for the range of complex needs of this group of individuals. In particular, responsible officers struggled to find ways to engage with them. Enforcement had the effect of compounding rather than lessening the sense of a revolving door between prison and the community.
The above is from the
latest HMI report into Enforcement and Recall and I wasn't surprised that it highlighted that one of the factors involved was the
"limited opportunities to engage with service users who were reluctant to be supervised."
As we have become all-too-well aware, the government's continued response to the growing probation TR omnishambles is to endlessly restate the mantra that "48,000 short-term prisoners are now being supervised", whereas of course before they were not. This was repeated only recently by Crispin Blunt and it will be recalled was Graying's main cover story for forcing through TR in the first place.
In this latest report we have yet more evidence of how this is not happening and is in fact a lie. In the new age of fake news and 'alternative facts', lets nail this now - TTG and Post Sentence Supervision is a complete myth; a pipe-dream; a lie; a cruel con; a waste of time and utterly counter-productive. Here's a summary of the case and evidence:-
1) "Service users are reluctant to be supervised". Quite a lot of them are in fact mightily pissed-off and the refrain 'I've done my time' was always going to be the view of many short-term prisoners, and especially if they clearly have no need for 'help' or supervision.
2) "
poor supervision is more likely to lead to reoffending and, for some, another round of imprisonment."
The CRCs aren't interested in this group, don't make enough money from them and are thus most loathe to fork out for expensive voluntary groups and mentors.
3) "
On 31 March 2017, 6,554 of 85,513 prison inmates were in prison because they had been recalled. While the number of recalls is now starting to fall, the last quarter of 2016/2017 saw 5,347 offenders recalled to prison. Of these, 2,085 (39%) were individuals who had been under probation supervision having served a sentence of less than 12 months."
Recalls for this group have increased dramatically, thus proving it's utterly counter-productive and a major factor in adding to the increasing prison crisis.
4)
"If Through the Gate services were removed tomorrow, in our view the impact on the resettlement of prisoners would be negligible." Joint HMI report June 2017 and a situation confirmed by subsequent
HMI reports, thus reducing the much-lauded TTG initiative to the status of urban myth.
5)
"Offenders sentenced to less than 12 months also serve the second half in the community but are not actively supervised by Probation."
From t
he official MoJ 'sentences explained'
website
.
At least it's an honest statement of the position and nails the myth about
TTG and 'supervision' of the group "released with only £48 in their pocket."
When I joined I worked for something called the Probation and Aftercare Service - support and guidance for the under 12 month custody group was voluntary - on offer if required and requested. Now, how about that as a novel idea to try and help get us out of this bloody mess called TR and imposed upon us by a rabid, psychopathic ideologue?
--oo00oo--
This from the Independent (not happy at all with terminology 'convicts'?):-

Private probation companies letting convicts commit more crime and allowing them to disappear, report finds

Private companies are failing to enforce the sentences handed down by courts, leaving convicts to commit more crime or simply disappear, a damning report has found. HM Inspectorate of Probation said firms commissioned in a 2014 overhaul of the service are "stretched beyond their capacity".

Inspectors found that staff in community rehabilitation companies (CRCs) are not seeing the offenders they are supposed to supervise during community orders and suspended sentences often enough. They said the lack of proper engagement with convicts has led to poor decisions in managing violations, which can cause people to be sent back into overcrowded prisons.

In one case, a CRC officer made no contact with a 33-year-old pregnant woman due to be released on licence after being jailed for shoplifting. The person charged with meeting Lucia, a heroin and crack cocaine addict, was on long-term sick leave and no action was taken when she missed other appointments. CRC officers did not visit her home, even when a social worker reported Lucia was injecting heroin and taking other drugs, and she was eventually recalled to prison.

In another case, no plan was drawn up for a man given a suspended sentence for assault, and an appointment finally made after 10 weeks was cancelled because of staff sickness. The CRC eventually sent a letter to Michael's address, but he no longer lived there. He then committed another attack on his former partner. He since claims to have left the country. In other incidents highlighted by the court, failures by CRCs allowed people to drop out of contact and disappear, including a homeless heroin addict with a "long history in the criminal justice system" who is now wanted for arrest.

In the 2016-17 financial year, almost 30,000 court orders were terminated through failure to comply, further offences being committed or other reasons. Convicts who were released but then recalled to prison for violations made up 6,554 out of 85,513 people imprisoned in England and Wales.

The report came less than two months after another assessment warned poor supervision by CRCs was putting the public at risk, with thousands of convicts monitored using phone calls. Inspectors concluded that the Government's 2014 Transforming Rehabilitation programme had created a "two-tier" system that could worsen as loss-making CRCs cut
staff and services.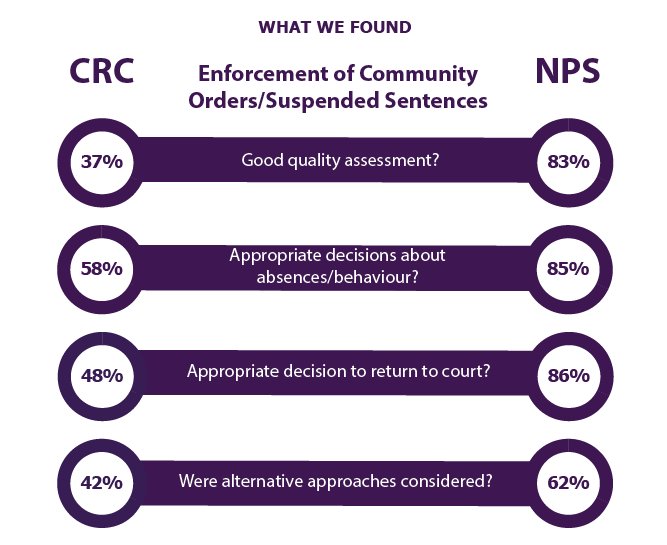 Dame Glenys Stacey, HM Chief Inspector of Probation, warned that bad supervision leads to bad enforcement, as well as higher reoffending and returns to prison. "CRCs focused on contract compliance, but not seeing people often enough, or not engaging meaningfully with them, are inevitably behind the curve on enforcement," she said. "Often, the level of disengagement or deterioration in the person's behaviour were such that they could not be safely managed in the community. Recall was appropriate, even when the individual had committed a relatively minor further offence."

The report called on the Government to ensure probation services have the resources to supervise convicts with complex needs often including homelessness, substance misuse, poor health and limited employability. Inspectors said CRCs must effectively assess convicts in their charge and have purposeful face-to-face contact, while developing local partnerships. They found the National Probation Service (NPS), which remained under government control when the service was split four years ago, was still performing well.

The 21 CRCs provide probation services to low- and medium-risk offenders, while the NPS handle those deemed to be a high risk. Supervision covers around 268,000 offenders who are subject to community orders, suspended sentences and licence conditions, who may be put on rehabilitation programmes or electronically tagged. The number of people supervised has increased by a quarter since the Offender Rehabilitation Act 2014 extended monitoring to all adults sentenced to more than one day in prison.

Officers are required to judge convicts' compliance and decide what to do if they violate orders, carefully balancing their prospects of rehabilitation with the need to protect the public.

The Howard League for Penal Reform said the number of people being recalled to prison had "spiralled out of control" following the part-privatisation of probation in England and Wales. Campaigners said the change had increased pressure on a prison system already struggling with overcrowding, a lack of resources and record levels of violence and self-harm.

Chief executive Frances Crook said:
"This is the latest in a long line of critical inspection reports that show how private probation companies, which have already been propped up with extra taxpayers' money, continue to fail the public. The Howard League is calling for contractors to be held to account. When a privatised probation service fails, people get hurt. It is time for the Government to end this dangerous experiment and recreate a single, successful, probation service using the best from the system we used to have."
The Ministry of Justice said the report showed probation providers were recalling offenders to prison where necessary to keep the public protected. "We also welcome the inspectorate's conclusion that the NPS, who supervise higher-risk offenders, are doing a good job to enforce sentences," a spokesperson added.

"However, it is clear that CRCs must make improvements in this area, and we have already taken action – setting up an enforcement working group to bring providers together and drive forward necessary improvements. We will continue to monitor CRCs' performance and will work closely to ensure they meet the high standards of probation services we expect."