There's nothing quite like having your prejudices reinforced is there? The other day I took time out and attended a talk being given by two former probation managers on 'Probation - its history and present state' sort of thing. They both had plenty of years under their respective belts, one having been culled some time ago, was now an academic, the other retired last year as an SPO in NPS with something to do with MAPPA.
Significantly, I'm sure both hadn't been near a client for over 25 years, and it showed, thus confirming a naughty but widespread view I heard expressed over the course of my career - that if you were crap with clients, you got promoted.
The mostly-retired audience were treated to a rather-too-lengthy history lesson before an astonishingly upbeat vision of probation post-TR that simply took my breath away. Perhaps, not surprisingly, we learnt how well NPS was performing and especially with regard to public protection, however the smugness of the presenter was somewhat pricked later by a number of very sharp and focused questions from the wily audience.
But what I found particularly nauseating was the back-covering management-speak of a typical NPS functionary who clearly had taken to the command and control climate of the Civil Service like the proverbial water fowl. I had to stifle the urge to laugh-out-loud when they were stressing 'how much more publicly accountable things were now'. I felt very uncomfortable indeed by the implied superiority of NPS, when prompted by audience participation, in stark contrast to that of the 'failing' CRCs.
Yes, a first class prat I thought! How can you talk about probation and not mention the importance of the officer/client relationship, and instead keep stressing processes and public protection? But it also got me thinking.
There's a bit of a pattern developing with probation post-TR when considering the vexed question 'what the hell do we do to fix it?' I sense it rather suits the MoJ and NPS to allow the CRCs to take the blame, possibly in preparation for a re-unification, but at the very least to wave NPS as a partial success. In my view this cynical and crass attempt at obfuscation and manipulation needs to be called-out asap, especially if, as I suspect, the recently-retired NPS manager is anything to go by and typical.
Ok, we know the CRCs are failing - this from Private Eye:-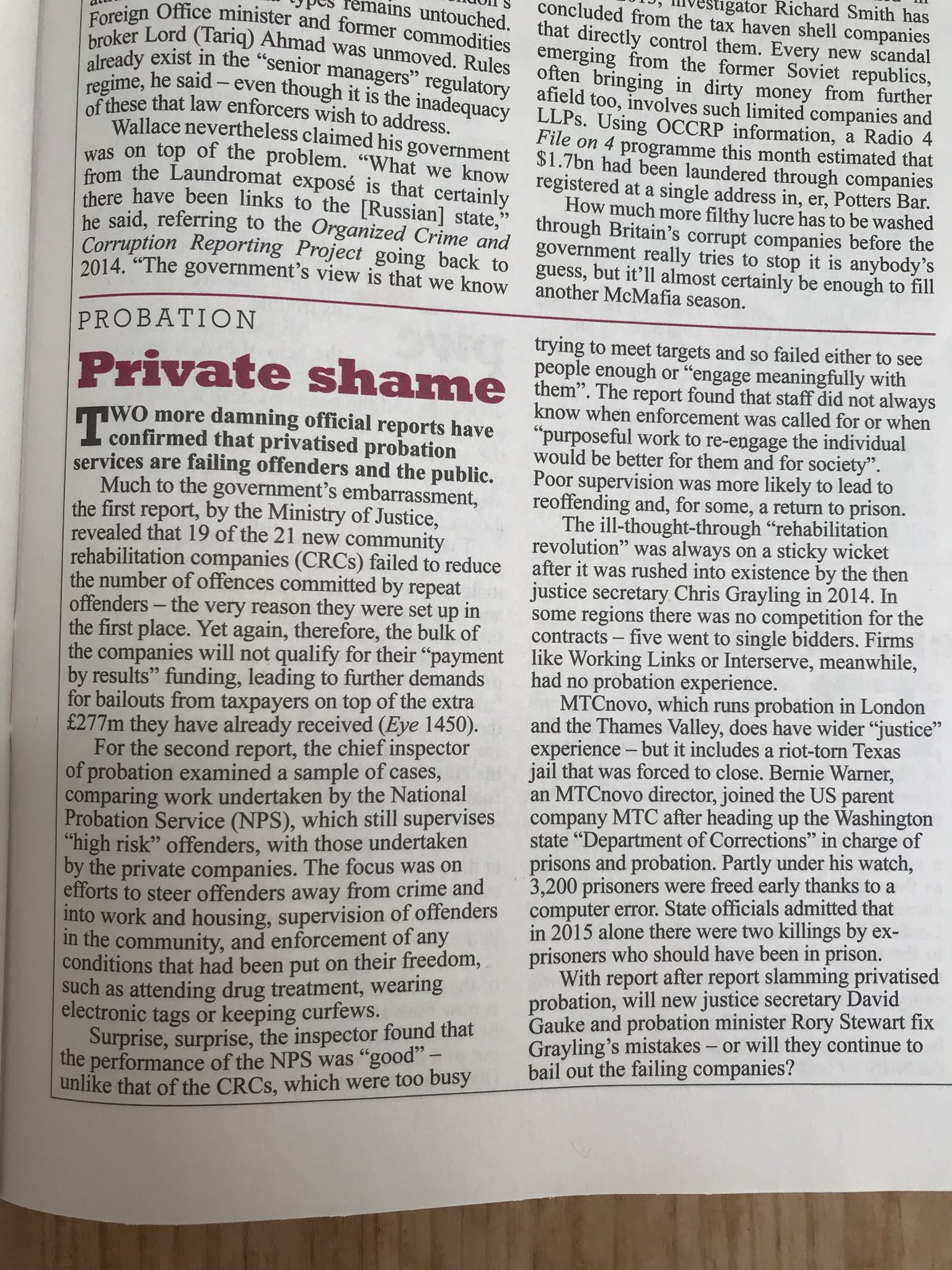 But a few months ago, I posed a question to a highly respected and experienced NPS Probation Officer of more than 30 years standing
"Is being a Probation Officer compatible with being a Civil Servant?"
The answer was an emphatic
"No!"
Subsequently, I've asked the same question of other experience officers, all with the same clear response. Not surprisingly, I am of the same opinion and would therefore postulate that in trying to fix probation when considering a plan 'B',
merging the service back together under NPS is definitely not the answer.
Those with long memories and experience will recall what happened to Magistrates' Clerks when they were nationalised by the Civil Service upon formation of HM Courts Service, subsequently to become HMCTS. I soon noticed something very strange indeed. Once very friendly, chatty, professional colleagues turned into cold, distant, aloof and dictatorial functionaries of the state only too-keen to hector, cajole and bully everyone at the behest of MoJ diktats. The title 'civil servant' seemed somehow to have given rise to an air of superiority which very much translated into barely-disguised disdain for the other unfortunate professionals forced to spend much of their working day in the lower courts.
One of the very unfortunate aspects of the probation 'split' has been the increasing rift between NPS and CRC staff with a regrettable growth in a 'them and us' attitude. It is sad to record but there is a pervasive, unsaid but implied view that if you were any good, you were 'sifted' off to NPS and that by extension the 'shafted' CRC staff were somehow second rate. This very unhealthy situation has been unfortunately compounded by recent HMI reports which often denigrate CRC performance, whilst noting that of NPS is seemingly better.
Here's the most recent glaringly unhelpful
statement
by Dame Glenys Stacey, HMIP:-
"people on licence, and subject to recall, were more likely to be supervised by higher-grade staff who are experienced at making the necessary judgements."
"Actually no because the CRC's are full of temps and the NPS is propping itself up with trainees and PSO's."
*****
"Really!!! Not in my experience, it really doesn't work like that unless there is child protection. Those licence cases would sit with any member of staff regardless of experience - recalls have to be endorsed by a line manager and the manager above them. However all of that said, you have to know when to go to a manager to discuss a potential recall and as most of us know, some case managers are being left inexperienced to handle high case loads."

*****
"Both CRCs and NPS are overstretched, dysfunctional and creaking at the seams. The parts do not make up the sum of the whole."
Since Probation Officers became Civil Servants, they have noticeably retreated behind a wall of secrecy, a situation enforced by a climate of fear and threats. This is not to be confused with probation's long history of professional integrity characterised by not divulging or leaking client-sensitive information to the media, in stark contrast it has to be said to both the Prison Service and police. This is quite different in that it seems nothing of any substance can be said by anyone at any level regarding policy, good practice, innovation and development.
You only have to glance at the utterly benign utterances of senior NPS managers on twitter to get a flavour of the dead-hand civil service command and control regime that now operates. Does anyone really believe there's going to be any serious innovation coming out of a state-run National Probation Service created by TR and run by prison-orientated Civil Servants? By way of a reminder, just spend a minute or two looking through the glossy 172-page 'Celebration of Achievement' proudly put together by the PCA in 2014:-
"To celebrate past achievements and to capture a selection of the key moments of the Probation Service's life, the Probation Chiefs Association, (PCA), has compiled this book with contributions from probation trusts and others. We hope you will find much to be of interest, and, within the limitations of a snapshot of a moment in time, that it will prove to be representative of a lasting legacy of the public sector Probation Service."
I defy anyone not to be impressed by the sheer devotion, professionalism, energy and scale of endeavour achieved under the previously locally-controlled and generally unshackled Boards and Trusts.
The whole thing has become overrun with
bureaucracy as well. It takes anything up to a year to clear the vetting process prior to appointment to a full-time NPS post and even getting 'purchase order' authorisation for employing a temp can easily become thwarted by minor omissions from filling in the on-line template. There's no human interface - the system simply aborts the process and doesn't tell you.
Secreted away somewhere in the bowels of MoJ/NPS HQ is a team of functionaries who's task is to daily send out command and control instructions to NPS staff, but this group are completely unknown, faceless and cannot be contacted either by phone or email - the perfect way to run things 1984-style.
To add insult to injury, where a once-proud and honourable profession is concerned, there's the none-too-small matter of practice and 'Performance Improvement Tools' in particular. It might sound like a good idea, for example for each PO to produce at least 3 Parole Reports each year that don't get amended by an SPO, in order to tick a performance box. Apart from the fact that Parole Reports are not always that common, the quality of the SPO-vetted reports are quite often suspect apparently. We know this because some agency-supplied 'old timers' are able to circumvent the process and supply 'old-style' reports, I'm told to universal acclaim!
The point I'm making is that it's all gone wrong everywhere post-TR and NPS certainly has no place to be looking smugly down its collective nose at CRCs, made up as they still are with mostly former colleagues of only some three years ago. Any plan 'B' cannot be just about putting everything under NPS control, to be run from a bunker in London. Those who still believe in 'Probation' and hold firmly to the ideal know full well that it's always aimed to be about being nimble, flexible, responsive, innovative, practical, embracing, thoughtful, reflective, self-analysing, caring, supportive, questioning, challenging - just not Civil Service territory really is it?