Yet another roundup I'm afraid, mostly about prison, but firstly some contributor thoughts on what's just around the corner:-
A word of warning.
The new providers have submitted proposals to run an area.
The contracts which they have "won" are as a result of these submissions,
therefore there will be no negotiation from the CRC about how they intend to run their areas with the new management.
What will happen is that the new providers will TELL the CRC how they have been contractually bound to run the business!
So any CRC chiefs who believe they are in a position to cosy up to the big cheeses with spiffing ideas on how to run the new entity will be sadly disappointed.
When the new boys take the keys they will be contracted to deliver what is in their contract, to the letter and sadly that means any pretence of "innovation" will be lost.
As we all know, the contracts have been negotiated on a "race to the bottom" basis, with clear evidence that cost has been number one consideration and quality a distant dream.
As much as we all despise the Capita way of working, comments on here suggest they were not willing to stoop too low on pricing or risk.
The emergence of EOS presumes again, they were the only company left to undertake the contract at a low enough price!
The shock to CRC colleagues will be that there will be new systems, processes and working arrangements to endure on top of the shambles that is in place at the moment.
Changing from route A to route B would be difficult enough when all is clear - but with the current car crash I am afraid it will be even more stress on top of that already endured.
There has been reference to the cost of TR and £15m is quoted for consultants, plus legal costs of £4m plus all the rest of the programme delivery costs - it is clear that Grayling will need to squeeze the contractors hardest just to recoup these costs.
Finally someone gets it!
CRCs are in for a rude awakening if they think they get any say at all in how things will be run. The contracts will all say quite categorically that they have to deliver to the bid they have put in. Therefore they will have to deliver that and not be bothered by any of the other nonsense (as they will see it) being thrown at them by CRC staff, who may well have ideas as to how to do it better.
Having worked for a company that took on an outsourcing contract relating to the work programme, I'm afraid you don't know half of whats coming your way.
Remember, to receive payment, you just can't submit an invoice stating your achievements.
Filing becomes a nightmare.
Every action, appointment, every use of other agencies etc, not only has to be recorded on the companies files, but duplicated to demonstrate evidence of the outcomes you are claiming.
The processes of presenting this information will be ascribed from above, and is highly unlikely to suit any current model being used within the primes.
There's not a hope in hell that the ascribed model will align itself with all agencies involved in the delivery process.
So what occurs is that files are passed back and forth until such a time as they are deemed to be compliant, and invoices are not paid either until all is deemed compliant.
This can mean 'and its what happened to the company that employed me', that payments are withheld for periods of several months, and many of the small subcontractors 'like the company employing me' can no longer afford to operate because all reserves have been used in running costs.
But the filing!!! OMG!!!! What a nightmare!
The experience of the Work Programme gives us quite a good idea of what's coming, especially as we know the same outfits are going to be involved in probation contracts. At least one reader has been watching exchanges on Facebook:-

Interesting comments made on Facebook by Work Programme advisers whose company is sub contracted from Working Links and they are Prime Bidders for 3 areas. The work will become target driven with no thought for the offenders.

Can someone tell me what has happened in our Cardiff office? Can't seem to get a true, honest answer from anyone who cares. All seemed good when I left. It's just all gone downhill! Nothing like it used to be.

I think it's mostly because of poorly implemented changes coupled with higher targets, more pressure and not a word of praise for anyone.

Is it all down to Xxxx? Couldn't believe the target you hit last month and no pat on the back!!

I don't think it's specific to one thing but a combination of lots of factors n things that have happened in last few months. I think it's a shame when u consider how good it used to be.
Targets are sometimes unrealistic! The changes to ESA and JSA advisers, was it agreed by the team? 3 and 8 targets?

Yeah those changes were actually put forward originally by the team, the targets though were not. For me part of it was realising the gulf in difference between Cardiff and the other offices when it comes to caseload sizes and targets. Its like anything u get what u put in. Targets, caseloads it doesn't matter if your happy and valued.

For example I exceeded target last month (and we all know that's rare) and I had no praise at all and stayed on the same bloody letter grading!! I'm fed up now.

Wish I was there last month. Praise where praise was due! Some of you did really well.... some of you could have tried harder.... especially you Xxxx! Caerphilly beat you lol!

It did annoy me that a whole office beat me by one lol

Your doing crap this month, so you would be on a PIP (Personal Improvement Plan) next month? lol

Lol they can pip me all they want now

Same as the guys. I've just lost all motivation... Once you've lost it this much. There's no getting it back. Time to move on. I'm sick of dreaming about work and not wanting to go to work. I used to love coming into work. Mainly because of you guys though.
The Howard League continue to be a thorn in Chris Grayling's side and their latest analysis of the prison population figures show an alarming degree of over-crowding, especially in local nicks like Armley, Leeds which is a staggering 180% of CNA (Certified Normal Accommodation):-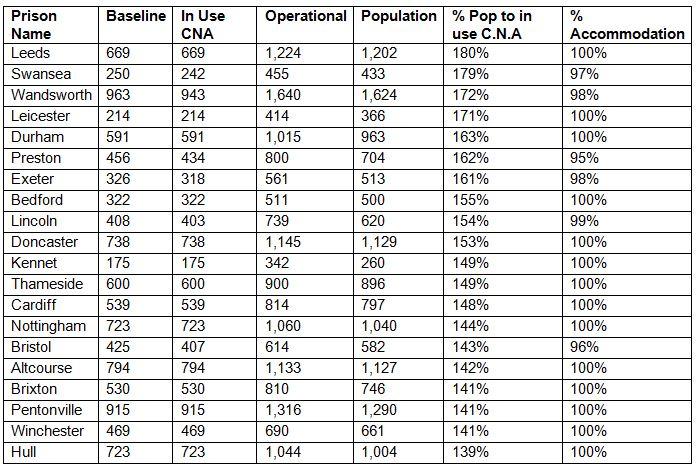 I notice Frances Crook has taken the MoJ to task in her latest blog:-
Don't blame the messengers: Prisons are in meltdown.
The Ministry of Justice has published several press statements explicitly criticising the Howard League and I want to put the record straight.

Comments from ministers have disputed our claim that prisons are understaffed and overcrowded and that conditions have deteriorated.
First of all, the facts. How on earth would we know how many prison officers were working in each prison and the exact reduction in numbers unless the Ministry told us? We have only used official figures. So the statistics are robust and it is the case that ministers have overseen a 41 per cent cut in the number of front line prison staff.
Secondly, ministers criticise us for highlighting concerns raised by HM Chief Inspector of Prisons and Independent Monitoring Boards about the sad state of prisons. The Inspector is appointed by the Queen to be her eyes and ears and the IMBs are appointed by the Justice Secretary to report directly to him on what is happening in prisons. Brixton IMB published its report on 11 November and the headline said that progress was hampered by "Government policies". The following day the report from the Inspectorate on Elmley prison said that – and I am going to draw out concerns at length because it illustrates the seriousness of the state of prisons:
The full blog can be seen here, but concludes:-
The report on Elmley prison follows reports in the last three months that show similar problems in Doncaster (run by Serco), Glen Parva (where teenagers have taken their own lives), Wandsworth, Cookham Wood (holds children), Altcourse (run by G4S), Gartree, Wymott, Swaleside, Chelmsford, Isis, Hindley (young adults), Preston, Ranby, Birmingham (G4S), Winchester and Wormwood Scrubs.
This is a public service in meltdown.

I have to say to ministers that the Howard League is only repeating the findings of official inspectors and monitors. Don't blame the messengers, look at the problem, it is of your creation and it is your responsibility.
The very day the Elmley inspection report was published another man died in the prison, taking the toll to seven deaths this year.

People are taking their own lives and others are dying by natural causes because there simply are not the staff to help them with a heart attack or life-threatening emergency. The responsibility lies with the decision makers.
I also notice the FT is not afraid to remind us about all that recent rhetoric concerning getting prisoners off their beds and putting in a day's hard graft:-
Fewer staff frustrate Clarke's work ethic
Helen Warrell, Public Policy Correspondent
Staff shortages across prisons in England and Wales this year have been blamed for an increase in unrest, assaults and self-harm among inmates, but they have also made it harder to get prisoners into work and training. Ken Clarke, the former justice secretary, was one of the chief champions of work in jail, and said in 2011 that he wanted a business offering jobs in every prison.
Mr Clarke's intention was to engage industry in helping drive up the number of full-time prison jobs from 9,000 to 20,000 by the end of the decade. However, under the current secretary of state Chris Grayling, initial progress towards getting prisoners working a full day appear to have stalled. Figures released in Parliament last month show that the percentage of inmates working in industrial activity increased only slightly from 13 per cent in 2010/11 to 14 per cent in 2013/14. Even the most successful prisons have only managed to bring a third of their populations into such training.
Nick Hardwick, chief inspector of prisons, blames staff cuts caused by lower government spending for the work agenda losing "focus". "Because of the staff vacancies, the opportunities to get prisoners out of their cells and into activity and be supervised while they're doing that has been very badly affected in some places," he told the Financial Times. "The National Offender Management Service would argue that when they recruit the staff and get staffing levels up to where they should be, that will enable more work to take place. Well, we shall see. Certainly, at the moment it's very difficult."
Frances Crook, chief executive of the Howard League of Penal Reform, is far more critical, arguing that the working prison agenda has "fallen apart" since Mr Clarke left his post, and that the availability of purposeful activity in prisons has deteriorated. "Cuts in the staff and the new Spartan regime has meant prisoners are idle again," Ms Crook said. "The problem is that the devil makes work for idle hands and if you are just lying on a bunk then crime festers, mental health festers and prisoners are suffering as a result."
The Ministry of Justice has repeatedly resisted suggestions that staff shortages are to blame for higher levels of unrest in jails, but prisons minister Andrew Selous has admitted that the "transient nature" of inmate populations has made work provision more challenging in some institutions. "The physical capacity of prisons . . . is an additional limiting factor," Mr Selous told Parliament. "Many prisons were built without large workshops".
Safety concerns continue and there are growing calls for probation staff to stop visiting prisons before a serious incident arises:-
I am currently working in a local prison. In the past 24 hrs I have personally witnessed two incidents in which prisoners have been involved in physical confrontations. While these incidents were dealt with by prison staff, I really feel that my prison is just spiralling out of control. I felt scared for the second time in my 31 years of being a Probation Officer. I love my job but I really think it is time to leave as no-one obviously gives a shit about my mental or physical health.
If you are 31 years in one would assume that you have 'been round the block' and seen some things that you wish you could unsee! For you to be frightened and indeed stressed is not a positive sign :( Stay safe and I hope things turn out all right.
Health & Safety is everyone's responsibility and so I would not await permission from NAPO to not enter a prison establishment particularly if I didn't feel safe. I can't understand why individuals who know it's not safe are still going in and will only cease doing so if NAPO issue a direction. Take the initiative - speak to your line manager and put things in writing spelling out your concerns.
Those seconded are in all probability NAPO or Unison. Given the silence from the latter, I'm not sure we can count on their support at any stage in the future (the best predictor of future behaviour...). I'm actually all in favour of NAPO issuing some form of instruction advising staff about going into Prisons.
I can just imagine our local Judges face (and he's not one who minces his words) when I tell him that I am unable to complete a report of Mr XYZ as the local prison is just too dangerous to go into. Knowing him as I do, I would not be at all surprised if he summoned CG into Court and asked him to explain just what the merry hell was going on! As much as I now applaud NAPO for what they are doing, I feel that we need to capitalise on this emerging viewpoint and start playing as dirty as CG.
I know of one Judge who would just, quite simply, hit the roof. I think the Prison Governor would be called into Court to explain himself and give a reason why probation staff were not allowed into his/her prison. I really cannot think of any downsides to such a stance by NAPO.
Of course ever since the advent of 'Care in the Community', we've all known that prison has become the default place of asylum for the mentally ill, and here's the Guardian on the subject:-
UK's mentally ill people more likely to be found in jail than hospital
This month has seen a gruesome case which again holds up a mirror to the state of Britain. The events that led to Matthew Williams, found eating the face and eyeball of a 22-year-old woman he had lured into his room at Caerphilly's Sirhowy Arms hotel, can be used to give a diagnosis of one of society's most visceral ills: that prisons, not hospitals, are the place to find the mentally disturbed.





There are about 16,000 mental health beds in the NHS, while the Centre for Mental Health estimates that about 21,000 people behind bars – a quarter of the total prison population – have bipolar disorder, depression or personality disorders.
Prisons also disproportionately house those who have the most serious mental illnesses. About a quarter of women and 15% of men in prison reported psychotic episodes. The rate among the general public is about 4%.
None of this surprises Jeremy Coid, professor of forensic psychiatry at Queen Mary University of London. He points out that less than 25% of prisoners who screen positive for psychosis subsequently received an appointment with a mental health professional after release. In a paper last year he said that failing to effectively screen prisoners' mental health inevitably led to tragedy.
He told the Guardian: "Our work, which looked at 1,000 cases, showed released prisoners with schizophrenia are three times more likely to be violent than other prisoners, but only if they receive no treatment or follow-up support from mental health services."
It did not have to be like this. In the dying days of the last Labour administration, ministers produced the Bradley report – a blueprint for reform of the criminal justice system and healthcare to ensure that prisoners did not languish behind bars without help. Ministers had been spurred into action by a series of hard-hitting warnings from charities such as the Prison Reform Trust, which pointed out that a third of prisons frequently saw prisoners who were too ill to be in jail.
However, the Bradley report was shelved by this government, which instead has brought about huge upheavals in the prison service and the NHS. In the past three years the public prison service has seen its budget cut by £263m and is struggling to cope with the loss of more than 12,500 (28%) of its staff since 2010 at a time of an ever-rising prison population. Probation services that will oversee the "medium and low risk" released prisoners are to be privatised.
At the same time the health service has undergone radical change. Budgets have been outstripped by patient demand, especially in mental health. In the summer the Royal College of Psychiatrists warned that NHS mental health services were "running dangerously close to collapse". Analysis by the Health Service Journal found that there were now 3,640 fewer nurses and 213 fewer doctors working in mental health compared with two years ago.
Juliet Lyons of the Prison Reform Trust wants an independent inquiry into the issue of prisoner mental health, saying that the proposed "serious further offence review" into the Williams case does not go far enough.
"Will a review be sufficiently comprehensive to examine prison, probation, health and family services and the communication, or lack of it, between them?" she asks. "And will it be sufficiently independent to avoid making excuses for a system that is disintegrating under undue pressure and instead ensure that lessons are learnt from this horrific tragedy?"
The government has said it remains committed to the Bradley report – and in January announced schemes to put mental health nurses in courts and police stations as a first step. Ministers' inertia might be explained by a simple cost calculation. Comparing private industry data with the costs of prison places, keeping a person behind bars for a year costs about £40,000 – a third of the price of a private mental health bed.





But far from treating people with mental health problems, prisons usually make those problems worse. Indeed, judging from re-offending rates, they are bad at rehabilitating prisoners without them. The Williams case should be a wake-up call because it shows that the things that were supposed to get better have not.
Finally, it's worth remembering that unsafe prisons can have very serious consequences not just for staff and seconded probation officers, but also prisoners as reported here by the BBC:-
A prisoner has died after a suspected attack by another inmate at a Merseyside jail.
Police were called to HMP Altcourse in Fazakerley, Liverpool, at 11:00 GMT following reports of an assault.

An inmate was pronounced dead shortly after his arrival at Aintree University Hospital. Two prisoners aged 41 and 33 have been held on suspicion of murder.
Last month a prison inspection said gang rivalries and drugs had caused rising levels of violence.
Officers from Merseyside Police's Matrix serious organised crime team, which investigates gun and gang-related crime, are investigating the murder.

The HM Inspectorate of Prisons report pointed to a problem with "gang issues and the availability of drugs, particularly new psychoactive substances such as Spice and Black Mamba", at the prison.