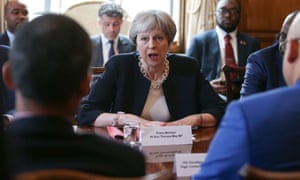 As regular readers will appreciate, now and then this blog goes 'off piste', and so it is that I feel compelled to say something regarding yet another astonishing week in British politics that saw the Prime Minister forced to publicly eat humble pie and apologise not once, but twice. Apologies don't come easily to politicians and it doesn't happen that often. We are still waiting to hear one in relation to the TR fiasco, but that is nothing compared to this.
When you've been around for awhile, heard about and seen some astonishing things, I guess you don't expect to be utterly blown away by something any more, but words can't really convey how angry and ashamed the Windrush saga makes me feel. I simply could not believe what I was hearing, people from the Caribbean who had answered the call to settle and work in this country after the Second World War, had paid taxes, held passports, paid National Insurance, started drawing pensions, were now some sixty years later being told by the Home Office that they had no right of residence and if they could not supply four pieces of documentary evidence for each of the last 40 years or so, they would be deported.
As the story began to go nuclear at the start of the week and the Commonwealth Heads of Government began arriving in London, we heard the astonishing discourtesy of No 10 saying that the Prime Minister's diary simply 'did not allow time' for a meeting with twelve of them to discuss the issue. Within a day the diary was magically cleared and the first apology came from Theresa May's lips. By Wednesday the second was made in the House of Commons and by Thursday promises to make amends had been made and a special Home Office unit was already at work in order to 'fix' things.
It was of course one Theresa May who, when in charge at the Home Office, infamously instigated the climate of hostility towards illegal immigration, introducing those dreadful advertising vans that drove around threatening action and stirring up fear and alarm. We now learn that it was under her watch that the carefully-stored disembarkation cards had been destroyed - the very documents that could help determine the legal status of the so-called Windrush generation. This news generated what must be the lamest of official reasoning I've ever heard. Apparently we are meant to believe that the destruction of these records was due to concerns over 'data protection'. Someone is clearly taking the piss.
Throughout this whole sorry, shameful, on-going saga, what has really left an impression with me has been the quiet dignity of those who have been affected and interviewed by the media. I've found their stories of official, abusive and repressive treatment by the state truly shocking and heart-rending and made particularly poignant just as the Commonwealth Heads of Government are assembled in London. History may never record how angry and dispiriting it must all be to our Head of State.
It's note-worthy how gracious those Commonwealth leaders interviewed have been in accepting the Prime Minister's apology. When invited to suggest that the action of the Home Office could be viewed as racist, one said no, it appeared to be a 'cock-up'. Well I think it was yet more evidence of an insidious, uncaring, nasty government that appears quite comfortable to put the sick and disabled through Work Capability Assessments, see the homeless die on our city streets, force the poor to pay Bedroom Taxes, remove Legal Aid from many defendants and engineer a regime in our prisons that is returning many to the Victorian age. For me this has been a week when I feel ashamed by what my country is becoming.