As all long-term readers are well aware, this blog does not do advertising, but if it did, there are a number of products that might gain endorsement, one being Mather's Black Beer, a traditional Yorkshire product.
The black beer brewed by Mather's is a strange beast, for several reasons. With consumption largely confined to
West Yorkshire
and
South Yorkshire
it is very much a regional taste. Even though it is more than 8% abv, for arcane reasons relating to its very high original gravity it is duty free. It is a beer but uses no hops, and is almost exclusively used as a mixer.
There are several near relations of this surviving black beer dotted about the world: in Germany Schwarzbier is enjoyed in several regions, a very dark, heavily malted brew, though lower in alcohol content than Mather's. Malt beer is enjoyed in the USA and in South America – and sometimes still in Scotland. And in the days when temperance was a powerful movement in Northern England black beer of a rather different style was brewed in
Lancashire
– Fitzpatrick's Temperance Bar in
Rawtenstall
still serves black beer and raisin – a clue to the origin of the Mather's drink perhaps, in that both are supposedly tonics.
Some daring souls drink black beer neat, but this is more of a trial than a pleasure – the drink is thick, mouth coating, very sweet and very malty, though with a bonfire toffee charm hidden in there somewhere. But mix it with something else and the results are interesting. A proper rum and black is with black beer rather than the blackcurrant that many bartenders will provide if unchecked, and this is a drink with a history – supposedly a way of making scurvy prophylaxis palatable to sailors in days gone by, black beer containing a high concentration of vitamin C. Mixed with lemonade you have a refreshing and malty shandy, known in Yorkshire as a
Sheffield
Stout. And some enjoy it as flavouring for milk, pregnant women it seems enjoying this tipple, though there is a legend that says pregnant women drinking black beer will have twins.
Sometimes seen elsewhere in the country on the shelves behind the bar, in with strange drinks from rather more exotic spots than
Leeds
, black beer is perhaps an acquired taste, but worth giving a go once or twice.
(From Food Legends on Information Britain website)
But by 2012, trouble was brewing, as discussed here in the Huddersfield Examiner:-
Black beer brewers hit by Osborne budget
Black beer is a taste that children used to acquire at their grandma's knee. Does anybody remember it?
My grandma always had a bottle in the family home in Cheapside, Wakefield, where I was born. When my uncles went out for a Sunday lunchtime drink she and my mother and Auntie Doris would cook dinner. Opening time in those days was 12 noon to 2pm and all the chaps in the pub or club had strict instructions to be back home in time for the first servings of the Yorkshires.
As the steam rose on the stove and the smells from the oven titivated the taste buds, my nose would rise like a Bisto kid and the ladies of the house would take a modest drink. My mum and Auntie Doris would share a bottle of Tetley's and my grandma would pour herself half a glass of black beer which she then topped up with lemonade. A smaller glass would be produced and I would also get a black beer shandy.
Those days have gone. Who can guarantee a chap will return home prompt at 2.20pm when licensed premises are open all day? And who, these days, still drinks black beer? The only makers of this distinctive drink are Huddersfield's Continental Wine and Food. Mather's Black Beer is flat, thick and strong at 8.5% alcoholic volume.
The problem is George Osborne's budget. He didn't just hit pensioners and pasty eaters. He removed a tax exemption from black beer that has been in existence for 80 years because it was accepted the drink was taken for its medical and nutritional benefits. It is high in vitamin C. It is also never drunk neat. Early this year, before the budget, Morrisons was selling a bottle for £2.10. Now it is online at £4. And this could be a leap too far for a specialist drink loved mainly by the elderly on restricted budgets in West and South Yorkshire.
Black beer can trace its roots back to 1555. Captain Cook gave it his crew to ward off scurvy. But now it could be scuppered because of Chancellor Osborne. No surprise there, really. He obviously did not grow up in a household with a Sunday lunchtime ritual of blokes in the pub and Yorkshires at 2.20pm. Or had a snifter of black beer at his grandma's knee.
--oo00oo--
The story reached the Guardian of
5th April 2012 and the article
explains
the background:-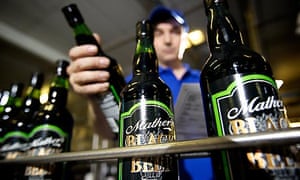 Black beer's future looks dark after budget tax relief changes


When George Osborne revealed the contents of his red box last month, much of the focus was on pensioners as the big losers of the coalition's third budget.

But 200 miles up the M1, a family-run brewery was also feeling unfairly victimised by the chancellor of the exchequer. In a little-noticed footnote to the 2012 budget, Osborne decided to repeal a curious tax relief which has for 80 years exempted from excise duty a special kind of alcoholic beverage made by just one company: Huddersfield's Continental Wine and Food (CWF).

The result is that a 68cl bottle of Mather's Black Beer will soon almost double in price to £4 – a leap CWF fears will be too much for its loyal customers, many of whom it says are pensioners leading frugal lives in Yorkshire and surrounding areas.

"It's 50/50 whether we'll still be producing Black Beer in a year's time," said Vicky Lee, CWF's group marketing and trading controller. "Yorkshire has already been economically very hard hit by the downturn, and this is yet another nail in the coffin for business in the north."

Ever since 1931, Mather's Black Beer has not been taxed like ordinary beers and lagers, despite having an alcoholic volume of 8.5%.

The logic behind this historical quirk was twofold – first, as HM Revenues and Customs (HMRC) notes (pdf), black beer is "taken" (not drunk) "for its perceived medical and nutritional benefits", notably its high vitamin C content. Second, it is not sipped neat, but diluted with lemonade or milk. When mixed with the former it becomes "Sheffield Stout" and tastes like a malty cross between dandelion and burdock and bitter shandy, with a faint caramel kick. It can be found behind the bar in almost every Yorkshire pub, usually nestled beside a dusty bottle of Stone's Green Ginger Wine.

HMRC says repealing the tax relief "supports the government's objective to simplify the tax system and is part of a package of measures which will repeal reliefs that are no longer necessary, have not achieved their policy rationale or are distortative". But on the factory floor in Huddersfield, men who have been brewing black beer all of their working lives said Osborne was killing off a part of Yorkshire culture.

Production manager Trevor Smith has been making black beer since 1978 and says it would be a "real shame" if production was stopped. "It would be summat else from here disappearing – it would feel like part of Yorkshire going," he said.

Like many black beer fans, Smith was started on the drink young and introduced his children to its merits before they were even old enough to go to primary school. "Just a capful, mixed with lemonade. It was a treat for them," he said.

But Joe Turton, CWF team leader, said part of the problem was not enough children carried on the habit. "I don't think the young 'uns go for it so much these days," he said. When asked what it tastes like, he laughed. "It's, erm, acquired. Like nowt else you'll ever have tried before."

Lee and her colleagues are constantly thinking up ways of broadening black beer's appeal beyond its northern heartlands, particularly the idea of using the drink in recipes. Their dream is to persuade Yorkshire celebrity chef James Martin, host of BBC's Saturday Kitchen, to use black beer in one of his recipes, prompting a Delia or Nigella-style run on the product.

Black beer can trace its roots back as far as 1555 when it began as "spruce beer", which was produced by mashing and fermenting the leaves of spruce pine. In the 1769, Captain Cook, the great Yorkshire explorer, started brewing black beer and giving it to his sailors to ward off scurvy on their antipodean adventures. By the time of the second world war, black beer was deemed to be so important for the morale of communities in northern mining towns that the UK government made special efforts to ensure that rationing did not affect production of the allegedly health-giving brew.

These days, CWF is the sole producer of black beer, having bought the Mather's brand from its inventors back in 1995. HMRC accepts that the withdrawal of the duty exemption "will have a negative impact" on CWF and "will make the product more expensive, making it less affordable, particularly for customers of pensionable age".

What sticks in Vicky Lee's throat is the bald admission by HMRC that the new rules – which come into force next April – will have a "negligible operational impact for HMRC". In other words, it won't fill the Treasury's coffers, even if the product survives at its new price point. Just not enough of it is made.

"At the end of the day, we are only selling 35,000 bottles a year," said Lee, "and you've got to bear in mind that each bottle tends to stay in a customer's drinks cupboard for a year before it's all drunk. The HMRC admits they won't make money off the duty increase, so why are they bothering?"

Plus, she says, CWF does not get rich brewing black beer. "We don't make it for profit. We keep it going for its heritage and we want to keep the product keenly priced for our customers, many of whose incomes are already at a stretch – and will only get more stretched with the rest of the budget measures."
--oo00oo--
The story made the Daily Telegraph too:-
Budget 2012: Sour taste for black beer fans

The "death knell" sounded for a piece of British heritage when the Budget ended a decades-old tax relief for a unique traditional drink, brewers said.The Treasury confirmed the end of a long-standing relief which exempts a famous type of black beer from excise duty. The tax change will affect only one company: Continental Wine and Foods (CWF), which sells 35,000 bottles of its Mather's Black Beer each year and is the last remaining producer of the drink in the UK.

The Huddersfield company says the move will take the beer's £2.10 price to over £4 when VAT is factored in, steep even for its loyal customer base. According to a Treasury impact assessment, this is mainly "people in the over 65 age group in Yorkshire".

"It looks like the death knell has been sounded for the product, because it will double its price," said John Shinwell, managing director at CWF. "It will not be commercially viable if the sales fall off. It's a bit of Yorkshire heritage biting the dust."

Traditionally popular with miners, the sweet, malty brew can be traced back to the 16th century. Captain Cook took it with him around the world to keep his sailors free from scurvy, as it is high in vitamin C - the reason it has enjoyed tax relief for its "health giving" properties.

CWF argues that the beer, sold in a thick, concentrated form which has an 8.5pc alcohol content, is not beer as anyone would recognise it. Diluted with its typical mixers of lemonade or milk, it is akin to a very weak shandy - with an alcohol content so low it would avoid duty, it says.

The Treasury admits the tax change will have a "negligible" impact on its coffers but says that it fits with the goal of simplifying the tax system.
There was a petition that gained 193 supporters:-

Remove the duty from Mathers Black Beer so that it can be manufactured again

"It is the taste of Christmas in a bottle and is a Yorkshire tradition. It's as important to Yorkshire Christmas as the turkey and tinsel."
and a Facebook page 'Bring Back Mathers Black Beer' remains as testament to the initial widespread shock and is still a forum for discussing all things MBB:-

I don't know any one over 25 that hasn't drank Mathers black beer and lemonade at some point in their life. I work in a wines and spirit dept in a supermarket and the amount of people that ask for it is unbelievable.

True story. Mathers Black Beer made me 'the man I am today........' God help us all.....

So many people devastated. We love black beer. xxxx

They've basically ruined Christmas!

I want my Christmas, never mind the tax, no Christmas without our black beer, can we do a strike on Christmas to get our black beer back, Santa please can I have for Christmas Mathers black beer please please please. I believe in Santa xxxxxxxx

Bring back Mathers black it was a family tradition to have at Christmas when my mum died she had a bottle in cupboard it was hard who had to take it home it was drunk on her birthday please bring it back.

Getting in touch with any current/former club and pub landlords around Yorkshire and Lancs and getting them to think of any well-known MBB drinkers might be an idea.

I'm thinking a book might be a good idea, with recollections as a good awareness raiser.

I have contacted an old colleague. He is the CEO of a drinks company and one of his colleagues used to make black beer. He said that he doesn't think CWF will sell them the IP, the abv is a problem and the other issue is consumer demand.... But they will look into it!!

I wonder how many people would actually be against buying it off the "back shelf" in the off licence/convenience stores.
Would it be possible to form an investment group between us and ask CWF to sell us the recipe. Then we take the recipe elsewhere to get some produced.

I have one unopened bottle but I dare not open it.

EEEE Sheffield stout, will miss it we always have a bottle (had) in.

The other way to do it is have it made in China and export it back to the uk?

Sheffield stout, its a must for christmas, absolute madness.

Silly I know but it's an institution. x

Bring it back xx

Fed up of this assault on my culture! Would you support this on anyone else's? I think all of us could use this, adapted slightly, and email our MPs, regardless of where in the UK we might be.

I sooooo hope they do bring it back, I couldn't get any last year and my Christmas dinner just wasn't the same.
--oo00oo--
In amongst the numerous comments fondly remembering Christmas's past, I noticed an unanswered appeal to Ed Balls at the time:-

Hi Ed

I don't know if you can remember from your youth a drink synonymous with Christmas called Mathers Black Beer or Sheffield stout?

Production of it was stopped last year and it will no longer be on our supermarket shelves due to the government imposing a tax duty on it as it is very low alcohol. A Christmas tradition that has been brought to a halt because of some narrow minded MP in London who has no regards to the impact he has caused. It's like slapping a tax in mince pies or Christmas cake because they contain brandy or whisky or sherry!!! Black beer dates back centuries and records show that early recipes for the product helped sailors be protected from scurvy.

I have written to the company who made it 'Contentinental Food and Wine' and they would have to put the liquor up by about £1 per bottle and don't think it would sell. I do and so do others (I have set up a Facebook group).

However, you being a local lad (I live in Horbury) thought you might be able to use your influence as we have had no response from an email sent to the PM's office 6 months ago.

Can you help us Ed? We might not get it this year but if we could bring it back next year it would be amazing.

The Facebook page is: Bring back Mathers Black Beer. Thanks for listening and I look forward to your response.

Kindest Regards,
But it was all to no avail. Hard as you might search the Morrisons alcohol shelves today, you won't find a bottle of the once-cherished and famous Mathers black beer because production finally ceased in 2014. It was killed-off by the charmless George Osborne in a bit of 'administrative tidying-up' and in the process another bit of northern working-class heritage was swept aside. Any wonder the North surprised the rest of the Nation in several recent elections?
"It is the taste of Christmas in a bottle and is a Yorkshire tradition. It's as important to Yorkshire Christmas as the turkey and tinsel."
But don't worry, Yorkshire folk are nothing if not resourceful and some have resorted to brewing their own:- (no not me - ed)
Happy Christmas!