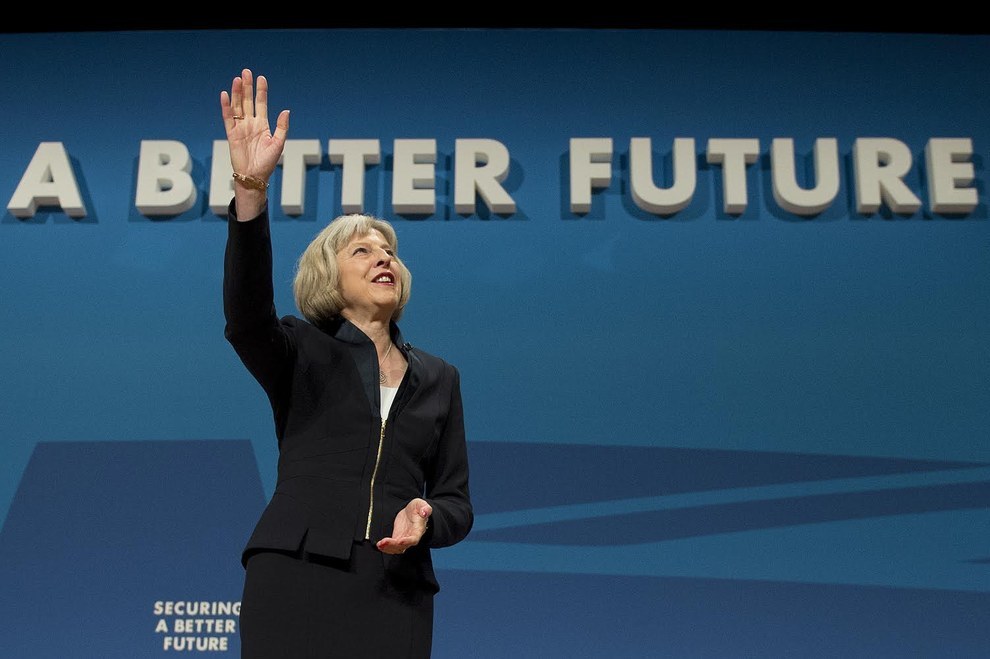 The other day I gave a talk about probation to a group of retired gas board staff and it was lively to say the least! I suspect there were quite a few Daily Mail or Sun readers in the mostly working class audience, but it must have gone down reasonably well because I was advised afterwards that no one had fallen asleep or walked out.
Two particularly good questions stick in my mind, firstly the woman who's elderly mother had been violently mugged, knocking her to the ground, asked if it was ever possible for such victims to meet the culprit? Apparently her mother wanted to. The second person asked, if things were that bad after the probation split, were they likely to improve?
The latter question got me pondering now that Michael Gove has gone, Liz Truss is obviously clueless, but Theresa May is in the driving seat. Are there any positive signs from the new PM's party speech I wonder, bearing in mind that when Home Secretary she was very keen on moving probation back under the Home Office remit and local PCC control?
Her complete speech can be found here and it's astonishing how many times she makes reference to 'the working class'. Something tells me, whatever the result of the Probation Review, it's not going to be good news for probation. I've selected a few passages and the italics are mine:-

"Let's be clear: we have come a long way over the past six years. We've brought the deficit down. Got more people into work than ever before. Taken the lowest paid out of income tax. Established a new National Living Wage. Helped nearly a million new business to set up and grow. Got almost one and a half million more children into good or outstanding schools. Put record investment into the NHS. Created nearly 3 million new apprenticeships. And brought crime down by more than a quarter to its lowest ever level. That's a record of which we should all be proud."
--oo00oo--

"Our democracy should work for everyone, but if you've been trying to say things need to change for years and your complaints fall on deaf ears, it doesn't feel like it's working for you. And the roots of the revolution run deep. Because it wasn't the wealthy who made the biggest sacrifices after the financial crash, but ordinary, working class families. And if you're one of those people who lost their job, who stayed in work but on reduced hours, took a pay cut as household bills rocketed, or - and I know a lot of people don't like to admit this - someone who finds themselves out of work or on lower wages because of low-skilled immigration, life simply doesn't seem fair."
--oo00oo--

BELIEVING IN THE GOOD THAT GOVERNMENT CAN DO

"So today, I want to set out my plan for a Britain where everyone plays by the same rules and every person has the opportunity to be all they want to be. It's a plan to tackle the unfairness and injustice that divides us, so that we may build a new united Britain, rooted in the centre ground. A plan that will mean government stepping up. Righting wrongs. Challenging vested interests. Taking big decisions. Doing what we believe to be right. Getting the job done.

Because that's the good that government can do. And it's what I'm in this for. To stand up for the weak and stand up to the strong. And to put the power of government squarely at the service of ordinary working-class people.

Because too often that isn't how it works today. Just listen to the way a lot of politicians and commentators talk about the public. They find your patriotism distasteful, your concerns about immigration parochial, your views about crime illiberal, your attachment to your job security inconvenient. They find the fact that more than seventeen million voters decided to leave the European Union simply bewildering.

Because if you're well off and comfortable, Britain is a different country and these concerns are not your concerns. It's easy to dismiss them - easy to say that all you want from government is for it to get out of the way. But a change has got to come. It's time to remember the good that government can do. Time for a new approach that says while government does not have all the answers, government can and should be a force for good; that the state exists to provide what individual people, communities and markets cannot; and that we should employ the power of government for the good of the people.

Time to reject the ideological templates provided by the socialist left and the libertarian right and to embrace a new centre ground in which government steps up – and not back – to act on behalf of us all. Providing security from crime, but from ill health and unemployment too. Supporting free markets, but stepping in to repair them when they aren't working as they should. Encouraging business and supporting free trade, but not accepting one set of rules for some and another for everyone else.

And if we do – if we act to correct unfairness and injustice and put government at the service of ordinary working people – we can build that new united Britain in which everyone plays by the same rules, and in which the powerful and the privileged no longer ignore the interests of the people."
--oo00oo--

MAKING MARKETS WORK FOR WORKING PEOPLE

"An economy that works for everyone is an economy where everyone plays by the same rules. I understand the frustration people feel when they see the rich and the powerful getting away with things that they themselves wouldn't dream of doing. And they wouldn't get away with if they tried. I understand that because I feel it too.

There's always an excuse – a reason why something can't be done – but when that is used as a basis for inaction, faith in capitalism and free markets falls. The Conservative Party will always believe in free markets. And that's precisely why it's this party that should act to defend them. From Edmund Burke onwards, Conservatives have always understood that if you want to preserve something important, you need to be prepared to reform it. We must apply that same approach today. That's why where markets are dysfunctional, we should be prepared to intervene.

Where companies are exploiting the failures of the market in which they operate, where consumer choice is inhibited by deliberately complex pricing structures, we must set the market right. It's just not right, for example, that half of people living in rural areas, and so many small businesses, can't get a decent broadband connection. It's just not right that two thirds of energy customers are stuck on the most expensive tariffs. And it's just not right that the housing market continues to fail working people either."
--oo00oo--

A FAIRER ECONOMY

"This party will always be the party of businesses large and small. But we must acknowledge that the way a small number of businesses behave fuels the frustration people feel. It's not the norm. I know that most businesses and the people who run them are hardworking, entrepreneurial and public spirited at heart. But the actions of a few tar the reputations of the many.

So the party that believes in business is going to change things to help support it. Too often the people who are supposed to hold big business accountable are drawn from the same, narrow social and professional circles as the executive team. And too often the scrutiny they provide is not good enough. A change has got to come. So later this year we will publish our plans to have not just consumers represented on company boards, but workers as well.

Because we are the party of workers. Of those who put in the effort. Those who contribute and give of their best. That's why we announced on Saturday that we're going to review our laws to make sure that, in our modern and flexible economy, people are properly protected at work. That's right. Workers' rights – not under threat from a Conservative government. Workers' rights – protected and enhanced by a Conservative government."

A SOCIETY THAT WORKS FOR EVERYONE

"This is a big agenda for change. But it is necessary and essential. It is a programme for government to act to create an economy that works for everyone – an economy that's on the side of ordinary working class people. And an economy that can support the vital public services and institutions upon which we all rely – to invest in the things we hold dear. Like the NHS – one of the finest health care systems anywhere in the world, and a vital national institution. An institution that reflects our values, our belief in fairness, and in which we all take enormous pride. And I mean all.

And let us take this opportunity to show that we, the Conservative Party, truly are the party of the workers…the party of public servants…the party of the NHS. Because we believe in public service. We believe in investing in and supporting the institutions that make our country great."
--oo00oo--
As can be seen from this piece on The Voice website, Manchester, the Tory Party's experiment in devolution, is already making a pitch for probation:-
'Give Us The Freedom To Tackle Reoffending'

Manchester's interim mayor and Police and Crime Commissioner Tony Lloyd has called for the city to be given the freedom and flexibility from the government to reduce reoffending in the region. He made the remarks following inspectorates' criticisms of the government's flagship 'Through The Gates' policy intended to reduce reoffending through improved rehabilitation.

Lloyd said:
"The government has got to listen to this report. As we negotiate our justice devolution terms, I'm calling on the government to give us the freedom and flexibility needed to work more effectively with partner agencies to tackle reoffending.We're committed to being - and we already are - forerunners in this area, pushing boundaries and testing innovative new approaches. We're already seeing some excellent results on the back of our trailblazing work with women offenders but it relies on solid partnership working at a local level, and local probation services need to be free to do this."
Justice devolution will strengthen the work Greater Manchester is already doing to deliver effective local justice and reduce offending. It will give Greater Manchester more powers to drive forward important improvements by more closely integrating health, education and accommodation, with police, Crown Prosecution Service, the courts, prisons, and probation services.

Greater Manchester Police and Crime Commissioner, the Combined Authority, the Ministry of Justice, the National Offender Management Service, the Youth Justice Board and other partner agencies are currently working together to agree what justice devolution will look like and what will be implemented from April 2017 and beyond.