As the mostly clueless new CRC owners continue the cull of experienced probation staff across the land, including Interserve:-
In Merseyside, only grade safe are case managers and I think, for now, senior case managers (pso/po respectively). All admin including admin managers & Unpaid Work staff are having to do a 2000 word application for their post & the closing date is this Monday 29th Feb. Interserve have promised that those unsuccessful will get re-deployed. Little notice for this - 2 weeks at most.
they've come up with a cunning wheeze - pay a university to endorse their shiny new innovative approach to rehabilitation:-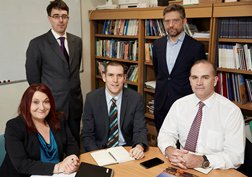 New partnership to tackle offender rehabilitation
25 February 2016

Interserve and Manchester Metropolitan University are proud to announce a new partnership which will develop innovative approaches to offender rehabilitation.

The Policy Evaluation and Research Unit (PERU) at Manchester Metropolitan will work with Interserve over the next three years to:
Evaluate a range of its offender rehabilitation interventions;
Review existing research evidence from the UK and around the world to identify promising new approaches;
Support the development of innovative approaches to offender rehabilitation by helping Interserve to translate research and theory into practice; and
Work with staff across Interserve to ensure that evidence is translated into practice. In addition, Interserve will be jointly funding a PhD titled 'An investigation into the theory and practice of personalised approaches to offender rehabilitation'.
Since 2015 the Interserve-led partnership, Purple Futures has been responsible for managing probation and rehabilitation services in five Community Rehabilitation Companies including Cheshire & Greater Manchester. Purple Futures is one of the leading providers of probation services in England and Wales and is responsible for managing 35,000 offenders a year.

Both PERU and Interserve are committed to developing innovative approaches to offender rehabilitation that are underpinned by robust research evidence. Staff from PERU supported Interserve when it was developing its distinct approach to offender rehabilitation that draws on desistance theory and the concept of personalisation of public services.

Professor Chris Fox, Director of PERU said:

I have been working with Interserve for a number of years as they have developed their justice offer. I share a desire to develop more personalised approaches to working with offenders. I have been impressed by their commitment to evidence-informed practice and innovative service design. I am delighted that PERU and Interserve will be working in partnership.

Yvonne Thomas, Director for Justice at Interserve said:

Interserve's long-standing relationship with Manchester Metropolitan University continues as we work together on evaluating what works and will ensure that we stay at the forefront of new approaches to rehabilitation. We are committed to reducing re-offending and understanding what works is critical to supporting offenders to change their lives.
Meanwhile a brave colleague talks to the press about what life is like at a Working Links CRC in the West Country. This from the Bristol Post:-

Fears severe cuts could see hundreds of probation officers 'replaced with call centre'

The numbers of probation officers working in and around Bristol could be slashed by more than 40 per cent, with many offenders being asked to "dial in" to a call centre rather than reporting for face-to-face meetings with probation officers in the future. This is the alarming vision painted by a serving probation officer who has spoken to the Post about his fears for the future landscape of offender rehabilitation in the region.

Bristol, Gloucestershire, Somerset and Wiltshire Community Rehabilitation Company (BGSW CRC) was formed in 2014 as part of the Government's reform of probation services. The three probation trusts previously at work in the area were brought together to be run by private firm Working Links. It is responsible for the management of offenders who have been sentenced to serve their order in the community – covering a range of restorative justice, "community payback", statutory supervision orders and resettlement work.

The probation officer who spoke anonymously to the Post said morale among staff is "shockingly low" as the company is currently consulting on 42 per cent cuts in staffing numbers. This would mean the loss of around 250 members of staff in and around Bristol – both probation officers and administrators.

"It's absolutely shocking," he said. "I have worked in probation for a number of years, and I have never known morale so low. It's hard to imagine how they would continue to provide the current service with the head count cut by 42 per cent. The case loads each probation officer is currently juggling is already massive – and it can now be spread out across quite a wide geographical area. The service is already severely stretched and that has to be having an effect on the rehabilitation work we are trying to do. The proposed cuts which will slash the work force by almost half is unimaginable."

But the probation officer said the most shocking element of the consultation so far is the suggestion that some offenders will simply be trusted to "dial-in" rather than having regular meetings with probation officers. "Any probation officer will tell you this is an extraordinary idea – it would be turning probation work into little more than a call centre. Quite how they think it is going to work successfully is beyond me."

Mike Cracknell, Unison South West regional organiser, said:
"A lot of staff are shell-shocked. These people are clearly very committed to their public service and to the betterment of society that rehabilitation provides. But unsurprisingly morale is now very low. So much so, I wouldn't be surprised if any offer for voluntary severance is over-subscribed. This is coming about now because the funding streams from the Government to these companies has been greatly reduced. The reality is that Working Links is a private company with shareholders to satisfy, and it is now much more difficult for them to make a profit out of providing the service than when they took over in 2014. Indeed, you have to wonder whether it was ever an appropriate part of the public sector to be privatised. David Cameron talked just a couple of weeks ago about the importance of rehabilitation and not relying on prison sentences – you have to think that what is actually happening in probation goes right against the spirit of that message."
A survey conducted by Unison ahead of the Government's Transforming Rehabilitation programme, which brought the service under the management of the private company in 2014, found that 99 per cent of probation service workers were against the reforms. At the end of September 2015, the total national caseload for probation officers stood at 234,229, up 7 per cent on the number one year earlier. The national average caseload being juggled by each officer is around 25 offenders at any one time (according to HM Inspectorate of Probation's Workload Audit Report in 2014) – though some officers find themselves dealing with considerably more than the average figure.

In his online blog, Ian Lawrence, general secretary of NAPO, another trades union for probation service workers, described a recent meeting with Working Links over the issue as "the most shambolic meeting I have ever attended with a private sector contractor anywhere in my career".

He said:
"At times it resembled a French farce with so many people coming in and out of doors desperately trying to fill the huge information gap that the employer had caused. It's reasonable for me to relay the question that members within their three CRCs are positing through their local representatives which is: why are Working Links treating us like idiots?
Whilst we ought to be spending valuable time coming to terms with the rationale and detail behind the operating model on which they say they have predicated their staggering 42 per cent intended job cuts, we have one important problem, in that they seem to still be working out what that actually is. Add to this the heady mix of mass confusion that is being caused by ad-hoc and ill-timed releases of information to certain managers who themselves are then placed in an invidious position and you have a classic example of how not to undertake consultation and negotiation. It's not too late for Working Links to bring some much needed order here, and as always we stand ready to engage."
A spokesman for Working Links said:
"We are committed to reducing reoffending and protecting the communities in which we work. Qualified probation officers will continue to play a vital role in our transformation and our focus is currently on aligning support services across the organisation to enable them to spend more time with our service users. Since taking on the CRCs, we have been open and transparent about the need to provide value for money services. We are consulting with the unions and our people on our proposed new way of working across the organisation. This includes consulting on proposals on changes to our estates strategy, including areas where we could co-locate services, creating a more cost effective information technology solution, and improving our processes to deliver efficiencies."
In response to the Post's questions about whether offenders could find themselves dialling in to their probation officers in the future, the spokesman said:
"As part of our proposed changes we are considering a variety of ways to keep in touch with service users, depending on their circumstances. This is a phased and complex change programme that we anticipate will be finalised in early 2017. Wherever possible, we will aim to avoid compulsory redundancies. Our front line delivery will not be negatively impacted by our proposed changes. At all times we will ensure we deliver a safe service."
I notice that Gill Hirst FPInst at the Probation Institute has been pondering the whole issue of naming.....
So… we were thinking in the Fellows' meeting about how best to capture that you don't need to be providing 'probation services' for the Institute to have something to offer you as a member and wondering whether the name might be putting off people who don't have 'probation' in their job title or who aren't commissioned providers of 'probation services'. The plan is that anyone with an interest or involvement in the work being done with people on probation would find a form of membership and involvement that was relevant and useful for them so the Institute can meet its goal of, through the membership, better serving the public by improving services to those people, their victims and those potentially at risk from them in the future.

Here's my idea: let's call anyone who is responsible overall for the package of help and controls for someone on probation their 'probation officer' irrespective of who employs them and what training they have been given. There is no legal definition of the qualification you need to be an 'officer of probation' any more but law does outline what they can and must do…and 'probation officer' will look more sensible at the end of a letter or email while making sense to the person who wants to know who, out all the people they are seeing, is actually their probation officer and the one ultimately responsible for the decisions being made while they are on probation.

Then, how about we call very expert and experienced probation officers, who might coach or supervise others, 'senior probation officers' as long as they still undertake work with people on probation. This will leave a title: 'probation managers' for those who manage people and activities but are not practitioners.

Following this, we could call just about everyone else working with people on probation on a paid basis 'probation workers' – this could include for example: programme tutors, community payback supervisors, case administrators, resettlement officers, health coaches, peer mentors. Those supporting people on probation for no pay could be called 'probation volunteers' – an advantage of these two titles being to remove the apparent distinction between colleagues who have been on probation themselves ('peers') and those who have not, more accurately reflecting that 'ex offenders' are represented in all job roles, not just the least well paid ones.
Finally, a
n animated discussion has been taking place over on Facebook regarding Through the Gate (TTG) services and fees being charged for services. I find it interesting for a number of reasons, firstly that use of social media is growing, not least since Napo made such a hash of their dedicated members forum, now deleted completely, and the fact that the 'charging' aspect of TR seems to have come as news to quite a few colleagues.
TR is, and always has been, about the money.
The debate was kicked off by this:-
"I am a PO working for a CRC. In the midst of the usual chaos yesterday, and when i was considering that things couldn't get much worse, I was saddened to receive an email from a prison CRC PSO explaining that they were willing to work with one of my prisoners to address (what I would suggest are) core resettlement needs ie housing referrals, drugs and alcohol etc. The letter then asked me to sign the consent form confirming that the prisoner required these services, and stated that I would then be sent a bill!!! (It did not include any figures) Should prisons not be providing these core services to ALL prisoners, irrespective of which area they come from?? Needless to say, I have sought further clarification from the PSO regarding this, and I am also awaiting an answer from management regarding which prisoners will be eligible to spend the money on...?? Having worked for some 12 years in a probation service where Officers have always gone 'above and beyond' to support clients in any way we can, I am deeply saddened to have been hit with the reality of a privatised service, concerned not with the welfare of our service users, or the impact of reoffending on the public, but for whether or not someone, somewhere, will be paying up."
I think the prison was referring to a rate card and Through The Gate process.

I am intrigued, when we are going to be judged on our 'performance', who exactly will be judged to have made the difference? Was it one persons assessment and referral, the provider, the Supervising Officers support..... or the client, who sometimes is just ready to get on with it. Some clients for example have always found work and we have to record 'work found' and 'work sustained', when that has never been an issue. Not necessarily my credit to take. Are we going to be fighting to take the credit. as, well as arguing over who pays up for the service.

ETE services in our area seek out licence releases, attend the office on day of release to ask the prisoner if they have work lined up... They then claim it as a 'successful completion' even if that is the extent of their involvement... I have had one case tell me they have received more than a dozen letters demanding evidence of secured employment to record on ETE systems, despite having had a job lined up with his dad the Monday after his Friday release!.

So we will be fighting to prove things, when actually not everything is so easily provable as this, over and above actually doing work with people. At least have you GOT a job, might be a yes or no answer!!

Prisons are no longer funded to provide resettlement services. These are now provided by the CRC Through the Gate service 12-16 weeks prior to release date and my understanding is that these are already 'paid for' in the contract. I believe CRCs are contractually obliged to provide signposting services for employment, accommodation, substance misuse, domestic violence and sex working to prisoners. Offender Managers need to consent to the service and are advised that anything over and above this is 'charged' to the area requesting any additional services. I would be grateful if one of my TTG CRC colleagues could confirm this?

I am a PSO in West Yorkshire. I was part of through the gate (ha ha ha) team. The resettlement 'service' is now run by different PRIVATE organisations. They require payment for anything that is outside of their CRC district. This includes NPS clients in the same district. If you say no and do not send the form back no work would be completed prior to release. You'd have to organise all yourself and ask charities to do the work.

Is bloody awful at the minute. I left my prison job and went into programmes. Best move back to trying to do what I believe in and not bother about targets and profiting from crime!

From what I understand on TTG - NPS would always have pay if this service is used. CRC would only pay if they use the service of another area... so if your area doesn't have a prison or your case is in custody in another county/CRC - then you'll have to pay!!! Good solid business sense eh!

Wondering why the OP referred to everyone (including themselves) by grade rather than referring to a colleague working in the prison it distracted me from the TTG issue (which is arranged differently, but is a CRC contractual responsibility, from CPA to CPA - so really difficult to make any informed response without knowing the CPA).

Sorry I understood the post more than the comment above. Does it matter which CPA? The involvement of case holders in direct budget issues is wrong. Other factors beyond risk and need will influence decision making. We are losing integrity where we do what is right for offenders and victims because it's right.

No programmes allowed due to cost. No resettlement support due to cost. And Pss... It's hard to believe we'll help anyone anymore.

Yes it does matter what CPA, as you can see from post below, the resettlement team is providing resettlement services in her CPA, and as I know which CPA that is, I know programmes are also being provided. My comment was in respect of the fact that the issues will differ from CPA to CPA and someone's experience in Thames Valley will be different from someone's experience in Bristol or Manchester - so there isn't one response that fits all. Hope that helps with your understanding.

Coming from someone working with these resettlement teams in a prison....So far we have been working with everyone and managed to dodge the 'rate card' service for NPS offenders! Higher up managers just seem to be ignoring it at the moment but it will be coming in at some point...which will then also mean that all this time NPS colleagues and offenders will be used to receiving the service, and then could have it taken away from them down the line if payment isn't agreed! Staff are struggling to understand the situation and who's providing what service as it is, it's only going to cause more confusion in the future! I feel quite thankful that I am going on maternity leave in a couple of weeks to be honest as I do worry about what is coming..

I too have worked in a CRC TTG team for a while on secondment from my normal PSO role and in this role we saw everybody within prison whether NPS or CRC and no matter what area they had come from. I worked with women from all over the country "trying" to organise their resettlement with little knowledge of what was on offer in that area.

If one West Yorkshire prison are supplying a resettlement service to people up and down the country I can see why that individual areas CRC or NPS would need to pay for the service given as the CRC where the prison is based can't be just expected to cover the staff costs to provide this TTG service for all CRC's. From my knowledge the resettlement services that used to exist in prison were pretty sparse and a service user being released to a housing assessment appointment was previously being logged as a successful outcome of gaining accommodation?! Whereas the TTG service that the CRC now provide is worlds apart and a really great service! Totally agree, it shouldn't be about money but more about need for this service within prison but I can't say I didn't see this coming. I'm surprised they are only just starting to bill for the service.

The problem is that TTG is only in resettlement prisons and not all prisons are classed as resettlement prisons. As a result services are being brought in to plug gaps, but ultimately these have to be paid for. There simply aren't enough to spaces in resettlement prisons

This new system was put together with the main aim of reducing reoffending, esp for those leaving custodial establishments. To meet the needs of the revolving door short term custody cases! Was that not the propaganda it was all sold on?! It was not to save money! It was not privatisation! It was not selling out to large corporate bodies! It was to meet the offending needs of the under 12mthsers! Whilst enhancing the service to the rest by reducing red tape and paper work and allowing professionalism and autonomy! Because traditional "probation" failed offenders and did not reduce offending! Sadly the figures did not show that. I and clients did not agree with that & highly dedicated and motivated staff who believed in their "calling" didn't think that either! But it's been smashed & cannot be put back together again. The reputation the UK held as being leaders in our field in this area irreparably damaged. But for me what is sadder is the lives that have been damaged or will be damaged by this. Progress!!!!! Ha

Did not realise the TTG had financial implications also! Bloody shocking! Idea of TTG was to assist in alleviating some pressure from field teams so they can meet demands of higher caseloads, sounds like there will be lots of denying the service (awful!) in terms of financial costs and as a result at risk of being a redundant service if not used enough. Can appreciate that these teams are very new and have a huge task to fulfil but when they send you a half completed form and ask you to do the risk assessment and send it off I think is a bit of a god damn cheek, may as well just have done it myself in the first place!

Welcome to the new probation 'service'! We knew we had been sold out and it is just coming to fruition. Trying to make money from offenders is frankly wrong. We, as CRC staff, have a moral judgement call to make but I for one feel trapped by the lack of opportunity elsewhere. No likey.

Yep. It's all about the rate card now. Well.... they call it "rate card".... it's basically a price list. Absolute lunacy.

I've been a probation officer for 25 years and I have to tell you that whilst services years ago were problematic, we still had time to work with offenders. We now spend 75% of our time bashing away on computers with some kind of assessment or plan with little time to work with the client group. On the back of that I find that when the split came almost everything the public probation service owned was given to the privatised CRC. Now we have to pay them for everything we need. To make matters worse, the total budget given from Government has been cut and we are left to fight amongst ourselves to see who can get the biggest slice of the cake. Watch this space to see how much of it will go to shareholders in the near future. Private equates to profit not service.

And here's one for the mix. How about the wonderful introduction of ORA? Hurry up now and do his OASys start custody. He'll be out in a week and you can do his OASys start licence. The week after when his licence finishes you can do your OASys review to end licence and start post sentence supervision. Don't worry though, if he doesn't comply with that you can do another OASys review along with your breach file so you can get him back in court for his inevitable £50 fine with order to continue. We've really sorted this no supervision for under 12 months haven't we? Hey ho though. We can buy some more services from CRC to get them back on board and make them offence free.

Come on, you are missing the point. A charity, volunteer or catering company are going to sort everything out, show us experienced dedicated probation professionals how to rehabilitate offenders. Yeah, right.