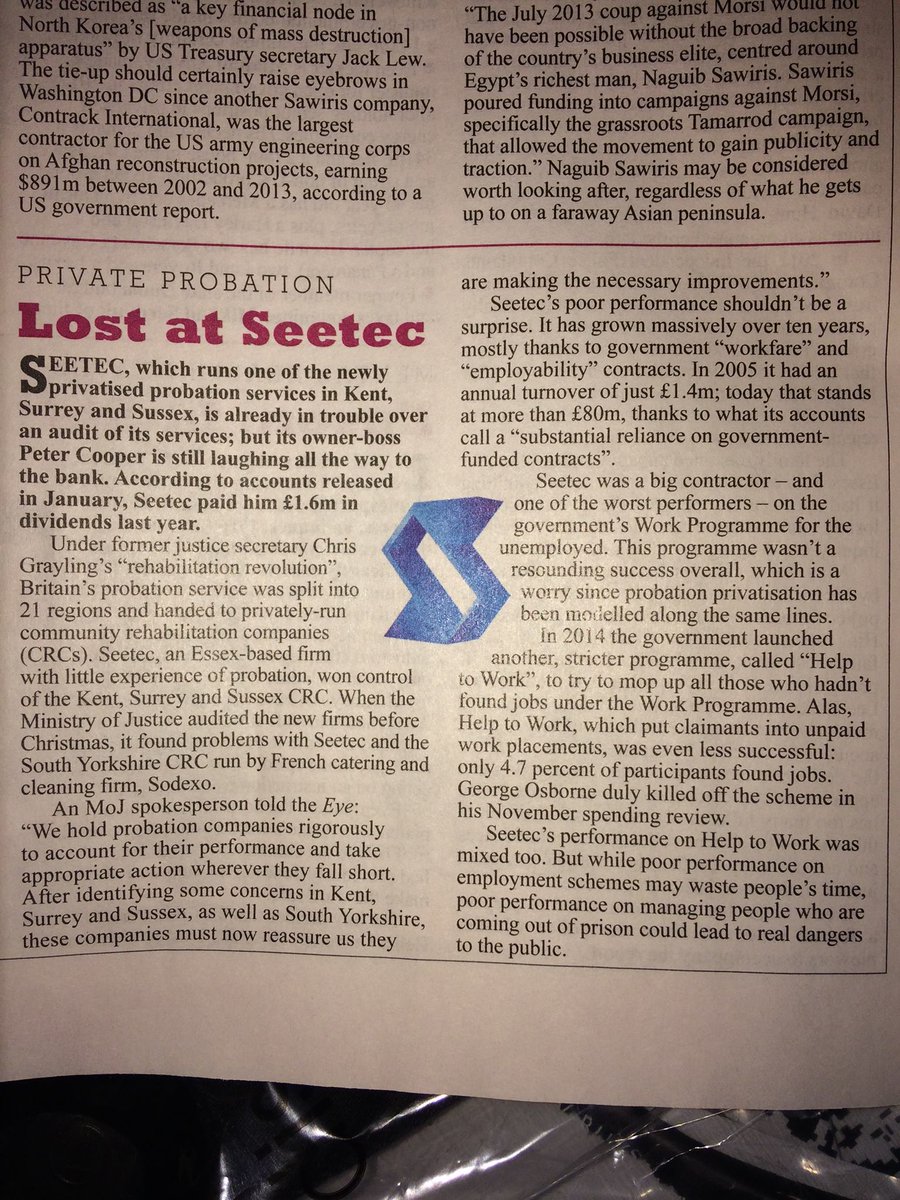 According to the latest edition of Private Eye, SEETEC is the latest of the probation privateers to be in special measures for failing an audit, but Home Secretary Theresa May has a cunning plan for probation - give it to PCC's to sort out.
Now those with long memories will recall that Police and Crime Commissoners was a concept floated a long time ago by the right-wing think tank Policy Exchange to replace Police Authorities. It was an idea that had no public support and their election three years ago recorded the lowest ever turnout with hundreds of thousands of spolit ballot papers, a fact that the government and Theresa May has conveniently swept under the carpet. This comment from yesterday summed it up nicely I thought:-
Democracy all round, then, as probation services and the modern version of borstal schools are handed on a plate to politically sponsored individuals who, at best, were shoe-horned into something like £65,000 a year PCC roles on the back of 30% of the votes from an average 15% turnout by the electorate. I'm not a statistician, but doesn't that effectively mean these quango's are being run by one person on the basis of getting the nod from just 5% of the electorate?
Like much of government policy nowadays, it was cooked up on the back of several fag packets and during her speech yesterday, even she admitted that at one point she felt it had all been a ghastly mistake. But only three PCCs have so far significantly disgraced themselves, none of them Tories, so relief all round and in fact completely unbeknown to the public, the decision has been made to give these barely-elected officials even more power over the Fire Service.
In a very sneaky move last month, departmental responsibility for the Fire Service moved quietly from the Department for Communities and Local Government, back to the Home Office in readiness for what will effectively become a merger of police and fire service functions under the joint control of PCCs. But clearly Theresa May feels suitably emboldened in her empire-building to now actively consider adding youth justice, probation and education to her portfolio:-
"But in the future, I would like to see the PCC role expanded even further still. Together with the Justice Secretary, Michael Gove, I have been exploring what role PCCs could play in the wider criminal justice system. This is something that I have long believed in and which a number of PCCs have shown interest in. As they say, there is a reason that we included the words "and crime" in PCC's titles.
So after the May elections, the Government will set out further proposals for police and crime commissioners. Because as a number of PCCs have argued, youth justice, probation and court services can have a significant impact on crime in their areas and there are real efficiencies to be had from better integration and information sharing. We have yet to decide the full extent of these proposals and the form they will take, but I am clear that there is significant opportunity here for PCCs to lead the same type of reform they have delivered in emergency services in the wider criminal justice system.
And there are other opportunities too. As Adam Simmonds has argued, I believe the next set of PCCs should bring together the two great reforms of the last Parliament – police reform and school reform – to work with and possibly set up alternative provision free schools to support troubled children and prevent them from falling into a life of crime.
And alongside the expansion of PCC responsibilities, the development of powerful directly elected mayors provides a fantastic opportunity, where there is local agreement and boundaries make sense, to bring together policing with local transport, infrastructure, housing and social care services under a single directly elected mayor. I know many PCCs have engaged with local proposals, and I would encourage them to continue to do so - because I am clear that PCCs' consent is a prerequisite for the inclusion of policing in any mayoral deal."
Now there's another funny thing - mention of 'Elected Mayor's'. I seem to remember the public were not too keen on them either. When John Prescott floated the idea years ago up in Durham and the North East, it was roundly rejected in a referendum and similarly where I live, electors comprehensively gave it the thumbs down. So how is it we're getting one imposed on us by George Osborne and Central Government anyway?
So lets get this right. The public didn't want PCCs, didn't turn out to vote for them and many that did, spolit their ballot papers. The public don't know who they are, what they do or who is standing for election because candidates do not qualify for a free mailout. During the election for PCCs there will be no mention of the proposed new powers, that will only be decided after they are get elected.
What was the title of Theresa May's speech? Why, 'Putting People in Charge' of course! Oh how the English language has been utterly corrupted by politicians.