Despite what the MoJ spin doctors might tell us, we know the whole Probation Service continues to descend into chaos. They have a vested interest in desperately trying to pretend things are going along smoothly because they are in the middle of trying to flog off 70% of the Service to anyone that can be persuaded to take it on, and the evidence would suggest quite a bit of arm-twisting has been going on behind the scenes. This is what one insider says the situation looks like on the day the final bids have to be in:-
1. Contract start date is still unclear




2. For 21 Contract Package Areas there are 80 plus bidders




3. All bidders will have at least two CPA's and the maximum number is five




4. The companies are not allowed due diligence




5. Initial bids were submitted on 23rd Aug




6. All were rejected




7. All must be resubmitted by Friday 5th September




8. The MOJ will make a decision on preferred providers by mid-November 2014 latest




9. Start date is February/March 2015




10. A number of primes will not be employing the staff, but will use their strategic partners to employ staff instead




11. A number of the primes will go for 'segmentation' of services ie only target those offenders who are politically sensitive or where there is a significant chance of change, the rest including under 12 month clients will get a basic service
What this says to me is that the MoJ has been busy through the summer making sure that the 'big boys' have been encouraged to make extra bids for CPA's they were not initially interested in. We know from previous discussion of the subject that their bids were felt to be hopeless at the beginning of the process, and there's been some 'nods and winks' to make sure they do better second time around.
By way of contrast, I'm led to believe that the 'mutuals' and others who might be deemed the 'good guys' did well at the beginning and would particularly have good reason to feel aggrieved at the extra stage inserted into the bidding process at the specific behest of ministers.
I'm absolutely positive there's plenty of scope for disappointed bidders to start crying 'foul' as soon as the winners are announced and no doubt there will be some with very deep pockets and good lawyers on speed dial.
The Liberal Democrats should be hanging their heads in shame for ever having supported this pile of Tory TR shite and in particular need to take notice of point 11 above. According to my information, the infamous under 12 month group 'leaving prison with just £46 in their pocket' won't be getting much attention at all. There's simply too many of them; no money to be made from them; the prognosis is too poor and bidders don't know what to do with them anyway. The latest edition of Private Eye would seem to confirm that under TR, the only money to be made out of this lot is to tag them all:-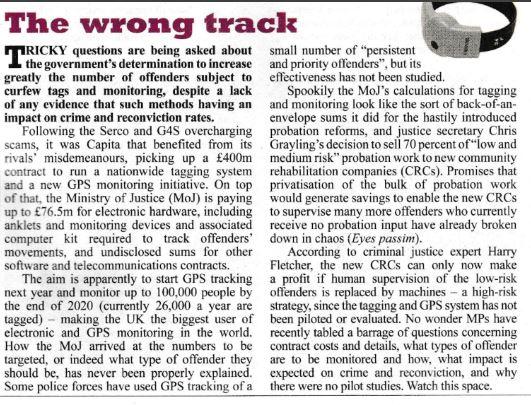 The slow train crash that is the TR omnishambles rumbles on....
Postscript
A crackingly-powerful piece in today's Independent by Mark Leftly:-
Probation bidders may make a profit, but they'll never be popular
It's time for Andy Parker, Debbie White, Mel Ewell, Adrian Ringrose and Richard Howson to do the right thing and withdraw from the race to, in effect, privatise 70 per cent of the probation service. The chief executives of Capita, Sodexo UK, Amey, Interserve and Carillion, respectively, will inherit utter messes if they are successful in bids to run any of the 21 community rehabilitation companies (CRCs) that have been established under Chris Grayling, the obstinate Justice Secretary.





The deals are worth at least £5bn over 10 years, but the risk to these companies' balance sheets is tremendous. Staff morale is at an all-time low, case files are either missing due to chaotic IT systems or gathering dust in cupboards because of workforce shortages, offenders aren't being properly supervised, and there is a growing risk to public safety.
The crisis is too great to subdue quickly or, indeed, profitably, in most of the CRCs. These outsourcing groups will be criticised and almost certainly financially penalised if a shambles not of their own making worsens.
---000---
The Independent titles have covered this story in depth this summer. We have reported that a preventable murder might have occurred because of the reforms, and published the self-written eulogy of a probation worker, Sarah Kane, who committed suicide.
Friends of the latter say that the reforms might have "contributed" to her death, though she was clearly extremely troubled aside from any work-related stress. But what is damning is that eulogy, her final message to those she left behind, in which she accused Mr Grayling of having "murdered the probation service".
Here is another quite awful example. Angela Suggett, a 64-year-old probation officer in West Yorkshire, was diagnosed with cancer and given six months to live in May. She asked for ill-health retirement on 2 June, just as the split occurred, and could have reasonably expected a lump sum to be agreed within two to three weeks.
A Ministry of Justice spokesman says that "all applications are dealt with promptly and sensitively". But Mrs Suggett still hasn't received her money as the whole system has been thrown into confusion. She accuses the MoJ of "frittering away" her life, and is furious that "absolutely no sympathy whatsoever" has been shown towards her when she needs the money for life-extending treatment.
Mr Grayling's aides are furious with us, perhaps sensing bias or sensationalism. A source close to Simon Hughes, the Liberal Democrat justice minister who might be expected to oppose the reforms, is insistent that these are teething problems and that change in any organisation is met with resistance and complaints.
There are no apologies here for pursuing this issue, because the weight of evidence is overwhelming. But no matter what we report, Mr Grayling is not for turning.
That's why it is up to those five chief executives to refuse to get involved in probation, if not for social then for commercial reasons. If those companies, which are among the biggest bidders, withdraw, Mr Grayling's great folly will be sunk.