Following on from news that Michael Spurr has had a massive pay rise, lets take a look at how things are doing in a big chunk of his balliwick, namely prisons. Last week a whole load of prison statistics were released by the MoJ and as usual the Howard League did a great job in teasing out the main points, such as that the 8 exceptional establishments are all publicly run and the number in the lowest category has doubled:-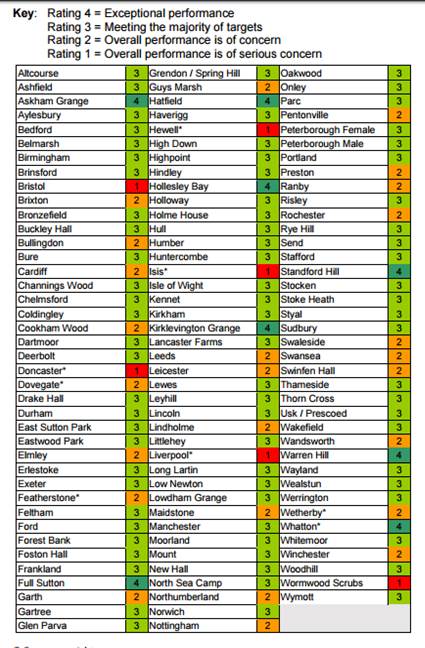 Now call me an old cynic, but I could write the press release on behalf of Serco who have the dubious honour of being responsible for one of the worst performing prisons, HMP Doncaster. Of course only a few years ago it was regarded as one of the 'jewels in the crown'. Anyway, that press release:-
"That was then - a lot's improved - but there's more to do."
Blimey.
This
from the Doncaster Free Press:-
Doncaster prison rated as one of the worst in the country

Performance at a Doncaster prison has been deemed to be of 'serious concern' by the Ministry of Justice, who gave the jail the worst possible rating in a report published today. HMP Doncaster was one of only six prisons across the country to be given the rating, in annual report looking at the performance of 121 jails across the country. This comes after the prison, run by private firm Serco, was branded inadequate by HM Inspectorate of Prison chiefs following their visit in October.

An official inspection report following the visit said levels of violence were higher than at other jails. It also stated that eleven inmates had died in the 18 months leading up to the inspection, including three who had taken their own lives. Hostage incidents had taken place, drugs were widely available and clean bedding was reportedly hard to find.

Julia Rogers, Serco's Managing Director for Justice, said:
"At HMP Doncaster, with considerable help from our customer we have been working hard over the past year to improve the prison. I am pleased to say that since March, when these ratings were given, the measures we have taken are having a real effect and as a result safety is improving and violence is gradually reducing. The measures we have taken include the appointment of a new Director and management team; achieving and maintaining full staffing levels over the last six months and providing improved training and support for our Officers and these have all contributed to reducing the levels of violence. We have also introduced a new 'Social Responsibility Unit' in June, to work with all offenders who display acts of violence and aggression towards other prisoners and staff. This Unit addresses the root causes of issues causing violence in Doncaster prison and we have seen marked reductions in violence.

However we know we have much more to do; we will continue to work hard to drive down violence in the prison and to support the victims of violence and support those prisoners in crisis. Doncaster has a history of having previously been an excellent prison and we are determined that it will be once more in the very near future."

The other prisons also awarded the worst possible rating were: Bristol, Hewell, Isis, Liverpool and Wormwood Scrubs. The number of prisons awarded the rating has doubled since last year.

Andrew Neilson, Director of Campaigns at the Howard League for Penal Reform, said:
"That more prisons have been awarded the worst-possible performance rating provides further indication of how the system is failing after years of rising numbers, chronic overcrowding and deep staff cuts. Once again, official figures spell out the urgent need for prison reform. Prisons are not only becoming more dangerous; they are becoming more dangerous more quickly."
--oo00oo--
Despite just announcing the fitting of a new hip, Frances Crook is still blogging. This is her latest with a plan for sorting out the IPP mess:-
The manifest injustice of the IPP

The Chair of the Parole Board, Nick Hardwick, suggested this week that the people serving indeterminate sentences should be released once their tariff has expired unless it can be proved they continue to be a risk. This is a reversal of the current burden of proof that requires people to prove they are safe.

This is a sensible, level-headed and just reform. We cannot continue to incarcerate thousands of people because of something they might do. It is manifestly unfair and it is causing chaos inside prisons as people are caged for years past the date they expected to be released with no end in sight.

It is extremely hard to prove you are safe to be released when you are in prison. Compliance does not necessarily imply that people will adjust well in the community. Indeed, it could be argued that people who challenge the system may be more likely to face up the exigencies of life outside.

I am pleased that efforts are being made to remedy the manifest injustice of the IPP by easing people through prison more quickly. But, and this is a very big but, there is a ticking time bomb that has yet to be dealt with.

People sentenced to an IPP are recorded on the prison computer as having a 99-year sentence because they are subject to a life licence. When they are released they are on licence for life but they are able to request that the licence is lifted after ten years. So far, no one has done this.

People released from an IPP are being recalled to prison under these administrative powers. The figures published yesterday show that 410 IPPs have been recalled to prison in the last 12 months alone.

I met with David Blunkett last week. You will recall that he was the Secretary of State who introduced the IPP. He has publicly admitted that what happened was not what he intended and far too many people were caught in the net.

He has agreed to support a call from the Howard League to get rid of the life licence and to have instead a fixed period of supervision of two years, with the possibility of a further year if the Secretary of State deems it is required for public safety.

The iniquitous element of the IPP is the uncertainty. People are languishing in prison for years with no idea of when they may be released and this uncertainty is replicated when they are eventually released as they face the possibility of being recalled to prison at any time because they behaviour is deemed 'risky'. This could mean a man going to the pub with friends when the original offence, committed maybe a decade ago when the he was in his twenties, involved alcohol.

When Parliament comes back in the autumn we will be working with David Blunkett and government to get this change.
--oo00oo--
This graphic admirably illustrates how IPP sentences affected prison numbers:-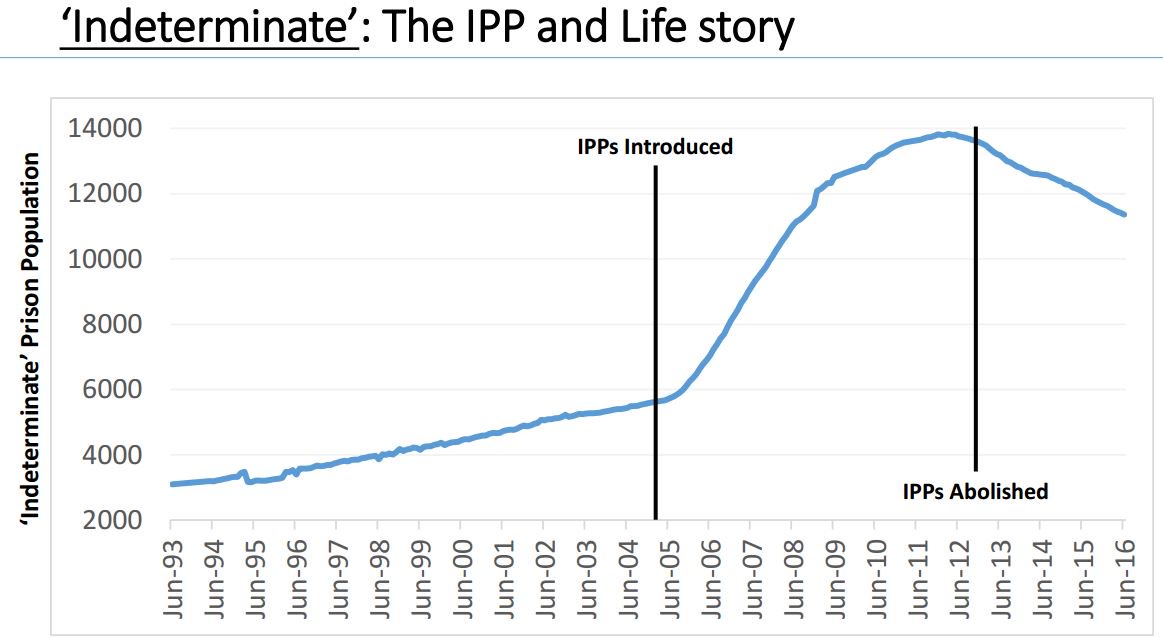 --oo00oo--
The House of Commons Justice Committee is seeking evidence on prison reform by 30th September:-

Prison reform inquiry

Scope of the inquiry

On the assumption that, as indicated by the new Secretary of State for Justice, Rt Hon Elizabeth Truss MP, there will be no substantial change to the ambitious programme of reforms to prisons already announced—including the £1.3bn estate modernisation programme, the creation of reform prisons to give prison governors greater autonomy, and the implementation of Dame Sally Coates' education review—the Committee launches an inquiry on Prison Reform.

As details of the reforms are still emerging, we pose high-level questions in our inquiry's terms of reference. In doing so we wish to seek overall views initially which will be followed up in greater detail with a series of sub-inquiries following the publication of the White Paper expected in October 2016.
--oo00oo--
Meanwhile, here's a strong indication of how Ukip would deal with the issue of prison reform as suggested by one of their number standing for leader. This from the Shropshire Star:-
Prisoners should pay £40,000 a year says Ukip MEP Bill Etheridge

A West Midlands MEP who hopes to succeed Nigel Farage as Ukip leader has announced a series of radical jail reforms – including charging prisoners £40,000-a-year during their sentences.
Bill Etheridge says he wants to see "a return to the days" when prison focused first and foremost on punishment, and vowed to "rehabilitate without using significant financial resources".

His measures include:
Removing all luxuries from jails, including all electronic devices
An automatic 10-year sentence increase for prisoners who attack prison officers
Locking prisoners in their cells for the first six months of sentences
Banning all visits over the same period
A £40,000 annual charge on prisoners to be levied until 'their assets are depleted'
It comes after Mr Etheridge called for a referendum over bringing back the death penalty, a measure which he says he is in favour of. Mr Etheridge, who is also a Dudley councillor, said the measures would reduce re-offending and 'ensure people do not want to return to a hostile environment', as well as driving down the cost of prisons.

"There should be no requirement to provide miscreants with the sort of electronic gadgetry that the poorest in our society struggle to acquire," added Mr Etheridge, who says he has never seen the inside of a prison. "Prisons should be there to provide shelter, toilet provision, food and access to reading materials for self-advancement. Anything more than these basic essentials is an unnecessary waste of tax payers' money.We must drive down the cost of prisons and ensure that they are places that no one would wish to return to."

The prison population in the UK is around 80,000, with the cost of imprisoning someone in excess of £40,000 a year. West Midlands Police and Crime Commissioner David Jamieson, said: "I would be more than happy to take Bill on a tour of one of the region's prisons to inform him of how they actually operate. I'd also be happy to take him to meet some of the West Midlands employers who take on former offenders and turn them from tax burdens into tax contributors."
--oo00oo--
Finally, not to do with prison reform, but it's good to see one of the candidates for Napo National Chair using YouTube as part of their campaign:-