It's been suggested that I mention the Napo Lobby of Parliament being organised for 3rd September:-
Critical Lobby of Parliament – 3rd September




2pm – 3.30pm Houses of Parliament
Committee Rooms 11 & 14
This is a crucial time in the Parliamentary calendar for Napo and the timing of the lobby

means that we can get a strong message to parliamentarians before they head off for their

party conferences. In order to make a noise about the chaos in Probation however, we need

as many members as possible to attend. We have had confirmation from a number of your

MP's so well done in getting in touch and asking them to attend. You will have an opportunity to

meet your MP either during or after the event so please get in touch if you haven't already.
The lobby is focusing on voices from the frontline and a number of members have offered to

speak at the lobby to tell their experiences of working in probation chaos. We are hopeful that

members will offer contributions from the floor as well so there will be plenty of opportunity for

you to have your say. Please let your Branch know if you are attending as we need to give an

estimated figure to security in advance. Branches will be meeting at the Monument opposite Parliament at 12.30 with a view to joining the queue at 1pm.
I'm aware that as I write the People's
March
for the NHS is taking place having set off from Jarrow on the 16th August and arriving at Parliament on 6th September
The People's March is a perfect opportunity to build support for the NHS and to join up with amazing NHS campaigners across the country. Following the basic route of the 1936 Jarrow Crusade, the People's March for the NHS will head to Parliament. On route we aim to make the public aware of what the coalition government has been doing to our NHS and what has been happening to our hospitals and health services.
It's really hard to passively watch the rapid dismantling, privatisation and destruction of the NHS. First we had the Health & Social Care Act, then Section 75 and more recently Clause 119 of the Care Bill. The Government have legislated to open the NHS to the open market. We believe every penny saved in the NHS should go back into improving and developing our NHS. We dont want to see private companies operating in the NHS under the heading of 'efficiency' when we know they are accountable to their share holders, who are only interested in maximum profit before patient health care. Join us for a mile or two, or join us for ten or the full 300 miles, come to our rallies, just be part of the fightback.
As of yesterday it's reached Darlington and will cross into North Yorkshire later today arriving at Northallerton. There's a handy map here to follow progress or turn out and give support.
I'm also aware that Thursday 11th September has been selected as a day of action around the country against benefit sanctions and workfare.
Finally, don't forget to cast your vote in the Napo elections for various posts - time is running out fast and well done if you managed to grab free tickets for the great new film about the miners strike 'Pride'. It looks brilliant and not to be missed especially if you enjoyed 'Brassed Off' and the 'Full Monty'.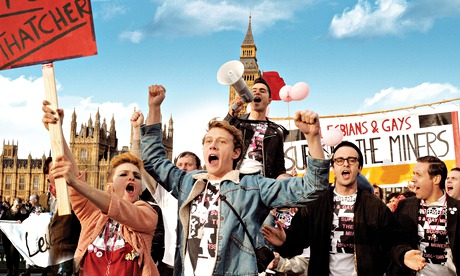 UK gay and lesbian activists work to help miners during their lengthy strike of the National Union of Mineworkers in the summer of 1984.
Postscript: This review of the film by Owen Jones in the Guardian on Monday:-
I am not embarrassed to admit that I wept at this beautiful film, but I only realised why afterwards. The film manages to convey what solidarity is to an audience who have been taught to abhor it. Thatcherism was always about breaking down common bonds in favour of selfishness; of reducing us to individuals; of believing that we improve our own lot solely through our own efforts rather than by linking together with others. That solidarity was not entirely expunged from the national psyche was despite Thatcherism's best efforts. This weekend, hundreds began marching from Jarrow to London in support of our NHS. In 2012, British electricians staged strikes and occupations against an attempt by multinational Balfour Beatty to slash their terms and conditions – and they won. By occupying tax-dodging businesses, UKUncut forced a national debate about tax avoidance. Solidarity still lives and breathes.
Breaking news concerning 'getting involved'
:-
Fathers 4 Justice campaigner unfurls banner on justice secretary Chris Grayling's roof
A Fathers 4 Justice campaigner set up camp and unfurled a banner on top of Justice Secretary Chris Grayling's home last night.

The protester, believed to be Martin Matthews of Great Bookham, climbed on to the roof in Ashtead with supplies at 9pm.

He appears to be mooning in one of the blurry photographs of the stunt. Police are understood to be at the house this morning.
In a statement New Fathers 4 Justice said: "He has put up a banner which reads 'Mum and Dads United'. "He has set up camp on top of the roof and has enough supplies to last several days. This is another protest to highlight the injustice parents face in the present family court system."
Mr Matthews climbed onto the roof of the Epsom and Ewell MP's constituency office in Barnett Wood Lane, Ashtead, on Fathers' Day in 2013 and in October, 2012.