It's Friday, a Bank Holiday is nearly upon us and I want to say two things. Firstly, thanks for keeping the blog running whilst it's been on autopilot and I continue to be necessarily involved elsewhere.
Secondly, with less than a week to go before the Election, judging by the comments coming in over the last couple of days, it's abundantly clear that all our fears regarding this TR omnishambles are more than proving to be correct. You don't need me to tell you to remember who is to blame come next Thursday and time to wield that strange stubby black pencil on a bit of string.
Please keep supplying the testimony, sending in the evidence, sharing your thoughts and concerns, but above all, carry on looking out for each other. As always, those moved to pen a Guest Blog will be more than welcome.
I'll close this holding post with an article in the latest edition of Private Eye:-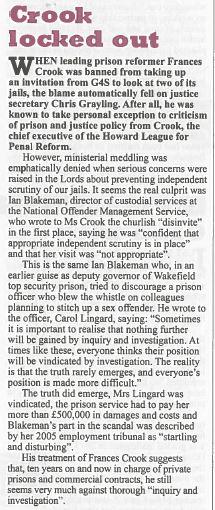 Postscript
This from the Bradford Telegraph and Argus is worth pondering on as well:-
A PERSISTENT Bradford burglar, with no home and no income, was ordered to pay more than £1,000 in court charges under new rules, after admitting his latest offence.

Nathan Simpson, 30, was jailed for four years by the Recorder of Bradford, Judge Roger Thomas QC.
It is thought to be the first time the Courts Charge has been imposed in Yorkshire and one of the first cases in the country.

Under new legislation, which came into force on April 13, Judge Thomas had to impose a £900 Criminal Courts Charge on Simpson, as well as a statutory £120 Victim Surcharge. He ordered the defendant to pay at £5 a week when he is released from his sentence.
The Criminal Courts Charge was introduced by Justice Secretary Chris Grayling to make offenders contribute directly to court costs. It is in addition to fines, compensation orders and the defendant's own legal charges. His barrister David McGonigal, of Broadway Chambers in Bradford, said after the case that Simpson had no income whatsoever, but the judge had no discretion when making the Criminal Courts Charge.
Mr McGonigal said: "I suggested the charge was wholly unjust, but the judge had no choice in the matter. Simpson does not have any means, no income, no benefits, and is of no fixed address. When he was asked how he was going to pay, he just laughed.
"This is the first case of its type I have dealt with, but there will be plenty more to come. It doesn't seem right to impose a penalty without considering the financial or personal circumstances of the defendant, but that is the new law."
Postscript 2

Richard Monkhouse, Chair of the Magistrates Association, commenting on the Criminal Courts Charge on BBC Radio 5 Live on 27 March 2015 (from article in current MA eNews)
I would like to correct some misapprehensions about the activity of the MA concerning the newly introduced Criminal Courts Charge.
The principle of the Courts Charge was announced in the Criminal Justice and Courts Bill in February 2014. It was fully and widely consulted upon. We have made this known to members in various communications. That Bill was given Royal Assent in February 2015.
The MA submitted its response. We said that even without any knowledge of the proposed levels of charge, judicial discretion should be allowed in its application. We submitted evidence to the Public Bill Committee and amendments were tabled. The MA Policy team also briefed MPs and members of the House of Lords about our concerns. During the Bill's passage, at meetings and events, we argued for judicial discretion and asked repeatedly about the anticipated levels of charge. The charges were only revealed on 23 March 2015 without public consultation and following this announcement, I was invited and appeared in various media outlets and repeated our concerns.
Members have raised this issue at visits that I and others have been making recently to branch meetings. Some members have jumped to the conclusion that because they have only just heard about this, it has also taken the MA by surprise. That is just not true. This matter has been the subject of discussion for the last 12 months at least. The main, but not the only concern is, as we have been saying over that period, that there should be judicial discretion in its application.
I understand members' views. I have the same concerns that the charge will have a detrimental impact on the justice system. However, we have to remember that we are judicial office holders and cannot pick and choose which laws we like. We have no authority to tell the government which laws they should enact and which they shouldn't. We can only advise them of the likely effects of their laws, and we do, repeatedly.



It is also worth mentioning that when arguing a case with anyone, particularly politicians, we may have strong belief in our own arguments, but so will they. If their proposals or actions are based upon ideologically held views, then no argument however logical it may seem to us, will win the day. In this case it was not only the MA but also other organisations within the Criminal Justice System who voiced the same concerns and yet collectively we could not shift the principle of a mandatory charge.
Of course, neither the MA nor any other organisation which seeks to influence policy will get its own way all the time. Sometimes we do, as in the changes brought about in the same Act regarding Cautions. Sometimes we don't, as in this case. That doesn't mean we will stop trying. We will be making the same arguments with the incoming government after 7 May and we have proposed that at the very least, the three year review of this charge should be brought forward to a six month review.
As judicial office holders, I am sure we all understand the need to be aware of the relevant facts before we draw our conclusions. As such, we will continue to keep you informed.
Richard Monkhouse