Time I think for another digression whilst we wait for confirmation that the CRC owners have at last cottoned-on that they have indeed bitten off more than they can comfortably chew.
'If voting changed anything, they'd make it illegal' so the saying goes and of course here in the UK we have a particularly crap electoral system that hasn't a hope in hell of delivering representation that comes anywhere near the true wishes of the people. But then we have the Liberal Democrats to thank for screwing up our one-and-possibly-only chance of electoral reform when they chose the wrong system to hold a referendum on.
And whilst on the subject of the Lib Dems, I'm absolutely clear that they and odious Nick Clegg must be punished for facilitating the demolition of the Probation Service. Of course he doesn't look too worried about a possible 'meltdown', despite breaking numerous promises, because he knows full well that the system he was too inept to change will in all probability carry on propping-up his party's share of the seats, if not the share of the vote.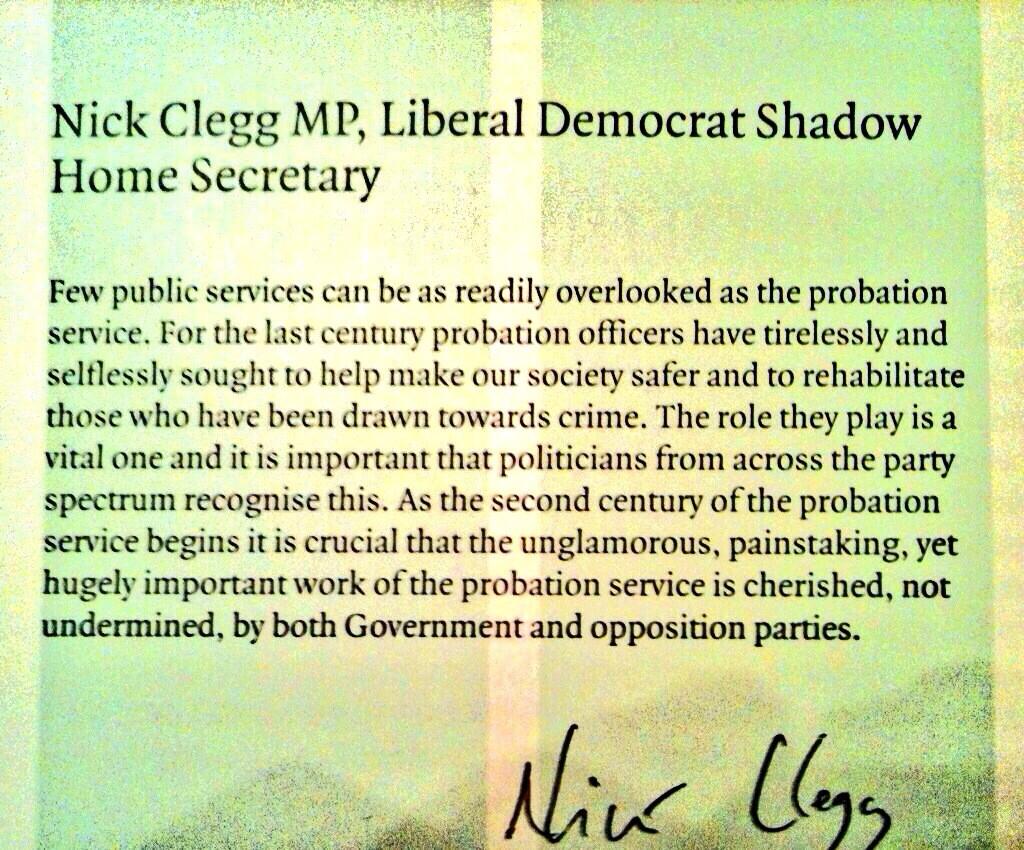 Despite this, many of us may hope to see Clegg unseated in Sheffield, but smug bastard that he is, he knows full well that the anti-Clegg vote will be split between any number of hapless also-rans, thus ensuring he's quite likely to get returned. As I say, our system is crap and the unspoken but unpalatable truth is that for 90% of us, it's a complete waste of time putting a cross on a piece of paper.
Of course we can't speak of this for fear of frightening the horses and putting even more impressionable young people off from voting, but the reality is that most seats are 'safe' with not a cat in hell's chance of unseating some odious or uninspiring loyal party supporter, no matter how crap a job they do.
For those who are unsure whether they reside in a constituency where voting is a waste of time or not, just count up how much party literature has been delivered along with the pizza menus. If the answer is close to zero, then your sitting MP and party has an important message for you 'I can happily do without your vote as shed loads of your neighbours vote me/us in every time'.
The other parties have an important message for you as well 'It's a forgone conclusion round here and we're just going through the motions in order to provide a bit of training for our aspiring wannabees before we find them a safe seat'.
But to add insult to injury and help bolster the illusion of a democratic process, one free leaflet from each party will be sent out, but paid for out of public not party funds. Our laughably-called Elected Representatives really do know how to take the piss.
Now I'm fortunate to live in a constituency where the sitting MP is likely to be unseated, but of course due to our crap electoral system and the rise of parties like the Greens and UKIP, they are just as likely to hang on because the opposition will be nicely split and thus pose no great threat at all. Labour is a close second as evidenced from the last general election, but could be robbed by a plethora of candidates with no hope of winning.
I can't believe how 'tactical voting' is just never discussed nowadays, just like the Barnett Formula, because the big parties fear such loose talk would indeed scare the horses and upset the apple cart.
It is completely unacceptable that Nicola Sturgeon feels she can hold the rest of the UK to ransom and just grins when Nigel Farage is the only politician who dares to mention that the free prescriptions and lack of university fees in Scotland is only possible because they are paid for by the rest of the UK under the Barnett Formula.
Having said all this, the beauty of this election is that the outcome is pretty much unknown. Labour have all but given up on Scotland and will join the Tories in losing virtually all their seats to the SNP. We know there will be no party with overall control and deals will have to be struck between some unlikely bedfellows. We know politicians frequently break their promises and it's entirely possible that Barnett is revisited, no matter what was promised in order to swing the Independence Referendum in Scotland.
I think we all know the Tory party is really the nasty party and the staggering numbers of people accessing Food Banks and suffering Benefit sanctions helps provide the evidence. Equally, the number of people forced to endure zero-hour contracts puts the recent 'glowing' emloyment figures into context, despite Iain Duncan Smith's valiant attempt to have them rebranded as 'flexible' contracts. And the Tories wonder why so many hate them and that the election isn't going well for them?
Many commentators are beginning to notice that the Tories are getting worried that the message on the economy is not getting through, just as Ed Miliband is beginning to look more confident and possibly even Prime Ministerial. David Cameron is going to find it increasingly hard to shake off the charge that he dare not debate face-to-face with him and the signs are that, despite what buttons he pushes, nothing seems to be working in winning over the Electorate.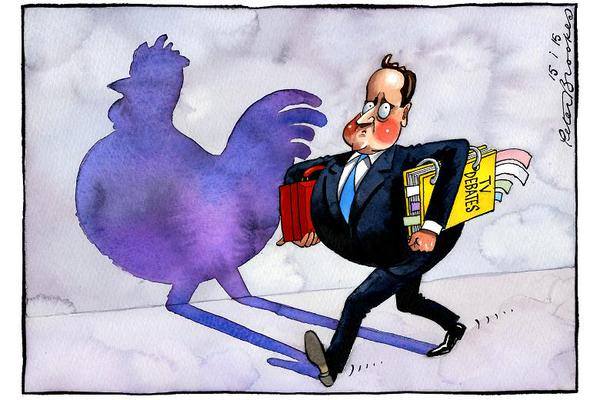 Which brings me on to the strange phenomenon of 'cross-dressing'. Whilst Ed has been ensuring that Labour can't be accused of making lots of unfunded spending promises, the Tories have suddenly started promising lots of goodies without explaining where the money is coming from. The assumption is that it's just old-fashioned election bribery, but dear readers, I think there's another explanation and they definitely don't want you to know about it!
Politics is as much about luck as anything and there is a silver bullet that could potentially nail the austerity question, fund public services, cure the debt burden and in one fell swoop give a massive boost to Labour by proving there really is another way. The story broke only a few weeks ago, but quickly forgotten as the caravan moved on, and that's just the way the Tories want to keep it. But it explains the sudden talk of Tory largess, together with Ed's rather more relaxed look of late.
What the hell is it Jim?
Why, we've struck oil!!
A small British oil company has found a bonanza of potentially billions of barrels of oil beneath a field near London's Gatwick Airport. The only problem is how much of the oil is accessible.
UK Oil and Gas Investments (UKOG) said April 9 that 3,000 feet of exploratory drilling at Wytch Farm in the Weald Basin, a rural area just north of the airport, discovered a "world-class potential resource." The area is now referred to as "Britain's Dallas." It was the deepest well dug in the region in three decades.


"We think we've found a very significant discovery here, probably the largest [onshore well in the UK] in the last 30 years, and we think it has national significance," UKOG CEO Stephen Sanderson told the BBC.
UKOG said an analysis of the deposit, called Horse Hill-1, shows it may contain up to 158 million barrels of oil per square mile, indicating that the entire well may hold as much as 100 billion barrels of oil, 10 times larger than previous estimates.

The Weald Basin rivals the entire oil reserves of Kuwait, which sits over 101.5 billion barrels of crude. And the site may prove to be more productive – and easier to work – than North Sea wells, from which Britain has produced about 42 million barrels in the past 40 years. The North Sea is a leading source of oil for Britain, but has become less productive in the past 15 years.
"The Weald Basin rivals the entire oil reserves of Kuwait" - blimey,
I bet this news might even wipe the smile off Nicola Sturgeon's face!
Postscript
For those interested in following the oil story, believe in conspiracies or are just plain suspicious, amazingly, shortly after the initial statement from UKOG, another clarifying statement was issued and this story appeared in the Independent:-
Gatwick oil discovery: UKOG issues climbdown as black gold boom 'sounds too good to be true'


An oil boom may not be about to turn the area around Gatwick airport into the Dallas of southern England after all, despite excited announcements just last week that as many as 100 billion barrels of black gold may be lying beneath the fields of Kent, Sussex and Hampshire.

While experts were quick to cast doubt on the scale of the forecast, the small oil company involved was forced by the London Stock Exchange to make revised predictions.


The company said its estimate for the 3,500 square-mile Weald had been based upon limited exploration from a single well in a very small section of the overall basin – the 55 square mile Horse Hill licence that makes up a tiny fraction of the overall Weald basin. As a result, it was not in a position to make a forecast for the basin as a whole where the rock formations vary considerably depending on the area.

"The company has not undertaken work outside of its licence areas sufficient to comment on the possible oil in place [for] the weald basin," the company said in a statement.
This is what John Ward of The Slog says:-


Although called the CEO of UKOG, Mr Sanderson is not on the Board, as such: in other words, he has no power. He's got the title at UKOG, I'd imagine, because he has an outstanding record of both finding oil, and estimating what it's worth.

With over three decades of experience under his belt, Sanderson can list several notable coups in his career: He was the key player in discovering the huge Norwegian Smørbukk-Midgard field complex for ARCO (now BP); and over time, he's spearheaded and managed the successful appraisal of oil and gas fields in the North Sea, Netherlands and Algeria. He has an appraisal and exploration track record in excess of 170 fields with asset values of up to $7 Billion on average.

So Stephen Sanderson is no slouch. In fact, on hiring the bloke last January, David Lenigas, UKOG's Chairman, commented: "Having been the author of the technical appraisal of our recent Horse Hill discovery in the Weald Basin, Stephen will add significant technical and commercial strength to the Company's management team here in the UK."

But on this occasion, he appears to have mispoken: when he said "world class find", he meant to say "worthless find".

To be exact, the Board on which he does not sit said that the company had "not undertaken work…sufficient to comment". But Mr Sanderson, I have established, did not announce the revised estimate of the energy find to the media without the Board's approval.

So why the sudden change of heart? Did Downing Street panic that the gaff might be about to blow on the destruction of its austerity and fracking rationales?